creamy cake batter cheesecake layered over a birthday cake oreo crust… these healthified cheesecake bars are to die for!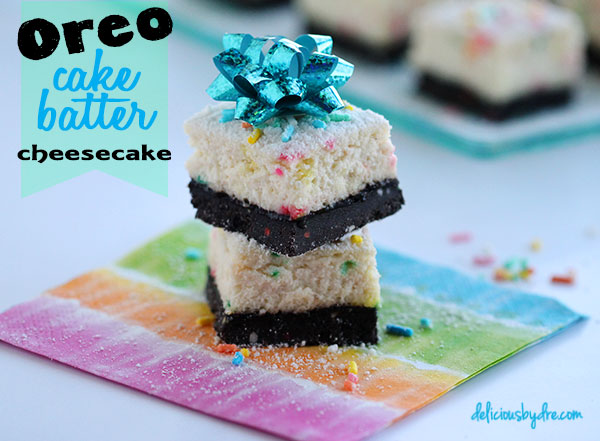 while this dessert isn't necessarily "healthy" for you, it tastes like heaven and is a lot better for you than your average cheesecake.  my husband said to think of it as a sale…it's like 40% off the original price! :)
the unhealthy part is undoubtedly the oreos.  there is no way around it.  my obsession began about a year ago, when oreo came out with a birthday cake oreo in honor of their 100th birthday.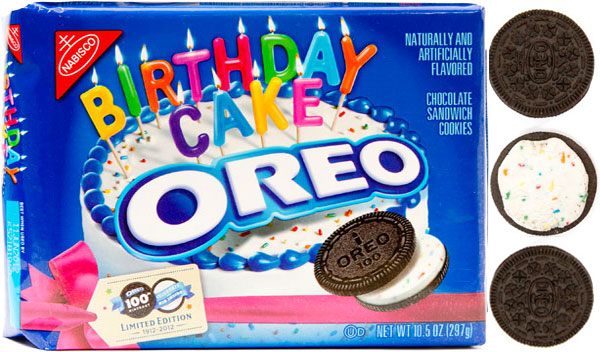 it was heavenly.  i made the most incredible funfetti oreo-stuffed cookies and didn't even have a blog (at the time) to post my recipe and show it off!  haha!  then the birthday oreos disappeared.  gone.  off the shelves.  (a bitter-sweet moment as far as my diet goes!)
fast forward to a few days ago as i was aimlessly wandering through the aisles of the grocery store…i saw them.  the cake-batter oreos are back!  my mind started dancing with visions of a funfetti oreo crust made with these oreos and coconut oil.
i added both cake-batter protein powder (which is totally optional-or you can substitute vanilla protein powder) and a little bit of funfetti cake mix…then topped it off with sprinkles, of course!!  i usually use coconut sugar in my desserts, but i used organic white sugar in this one to make sure it didn't effect the white color of the cheesecake.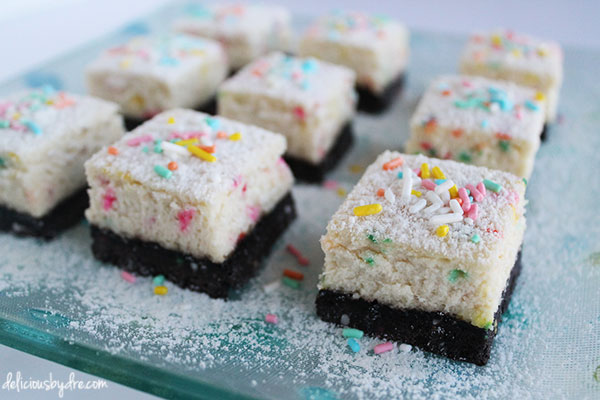 these might just be the best cheesecake bars i've ever tried.  seriously.
when i got home from the grocery store and started mixing ingredients, i decided to take a minute and google a few different baking methods for my cheesecake bars so i didn't mess this up.  while i realized i may not have been the first one to come up with a cake batter cheesecake, i'm pretty sure this birthday-oreo crust is unmarked territory.  i've never had cake-batter cheesecake until now, and after tasting these i wouldn't want my crust any other way!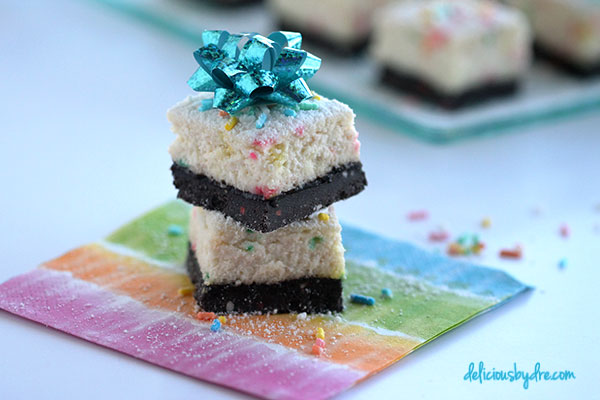 i borrowed my baking method from erika at the teenage taste.  she gives her cheesecake dish a "bath" in hot water while it's baking…it worked fantastically well.
side note: these turned out so well, i'm planning on adding blue food coloring to the cheesecake batter and remaking these bars for an upcoming baby shower!
oreo cake batter cheesecake bars
ingredients
oreo crust

25 birthday cake oreos
1/4 c pcoconut oil (melted)
1/4 c funfetti cake mix (optional)
2 tbsp sprinkles (optional)

cake-batter cheesecake

11 oz neufchatel cheese
1 (5oz) container of vanilla greek yogurt
1/2 c organic sugar
2 eggs
1/2 c unsweetened vanilla almond milk
1/2 c funfetti cake mix
1 scoop vanilla cake-batter protein powder (optional or substitute vanilla protein powder)
1/4 tsp salt
1 1/2 tsp vanilla extract
2 tbsp sprinkles (as topping)
instructions
preheat oven to 350 degrees. line 8x11 glass baking dish with parchment paper and set aside along with a slightly larger baking dish (i used a 9x13 glass dish) for the cheesecake bath.
in a food processor, (i'm sure a plastic bag & rolling pin would messily get the job done too) process the oreos until finely crumbled. add melted coconut oil and cake-mix (optional). once well mixed, add sprinkles and pulse a few additional times until blended. (don't over-mix once sprinkles are added!)
pour oreo mixture evenly into dish lined with parchment paper and set in refrigerator while preparing the cheesecake portion.
beat the cream cheese with a mixer on medium speed until fluffy. add the greek yogurt and sugar then beat until smooth. next, add the eggs, almond milk, vanilla, salt and beat again until completely combined and smooth. mix in the protein powder and cake mix until combined.
pour the cheesecake filling over the crust and top with sprinkles. set the pan in a larger pan (i used 8x11 and 9x13 dishes), and add enough hot water to come halfway up the sides of the baking pan.
bake until just set, 40 to 45 minutes. remove the baking pan from the water bath, and transfer to a wire rack to cool for 30 minutes, then freeze for at least 3 hours or refrigerate overnight.
i dusted a little cake mix on top to make it look pretty...you should probably do that too! :)
http://deliciousbydre.com/oreo-cake-batter-cheesecake-bars/
© copyright. deliciousbydre.com