easy-to-make protein coconut macaroons… sweet, moist and chewy on the inside with the perfect amount of crisp on the outside.
lets recap:  i missed week 34… (see bottom of post for chalkboard pic)
the plan was then to post this coconut macaroon recipe while i was actually 35 weeks pregnant and the baby was the size of a coconut…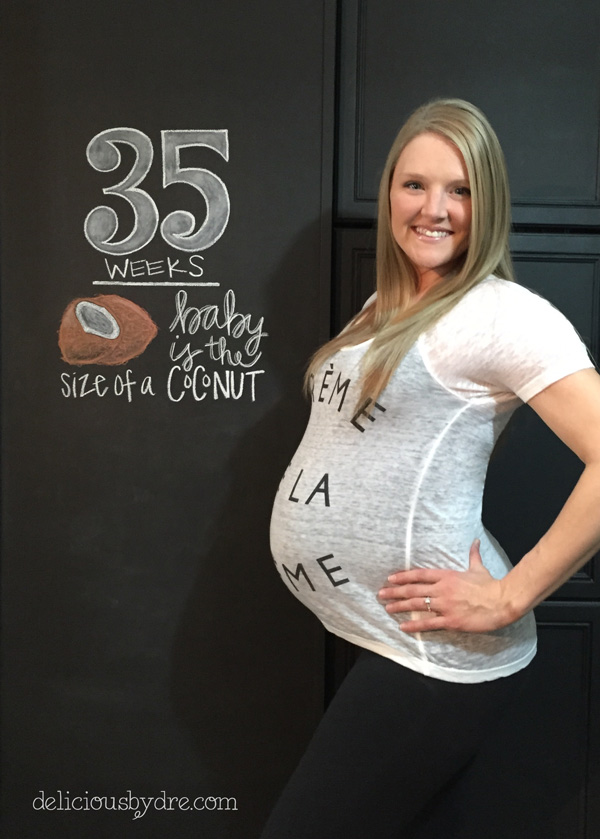 …except my amazing friends threw me a surprise baby shower and it caused me to immediately go into full-on nesting mode.  it's like a flip was switched!  pretty crazy what growing a baby inside of you can give you the urge to do… like individually vacuuming each and every blind.  seriously.
anyway, i finally got around to baking last week (then, 36 weeks pregnant) and this recipe turned out so incredible that the entire batch of cookies got eaten or given away before i even had a chance to take pictures for you!! (sorry-not-sorry)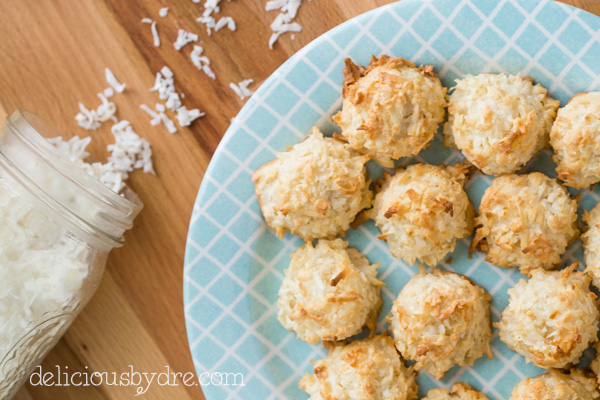 that being said… i am now 37 weeks pregnant and still not caught up, but can promise you these cookies are well worth the wait.
this recipe is thanks to matt & sara, a couple in our "birthing bootcamp" class.  they brought these super yummy coconut macaroons to class one night (and i'm not even a coconut person!) only to find out after tasting (and loving them!) that they were packed with protein.  true story.  so i snagged the recipe for you… you're welcome.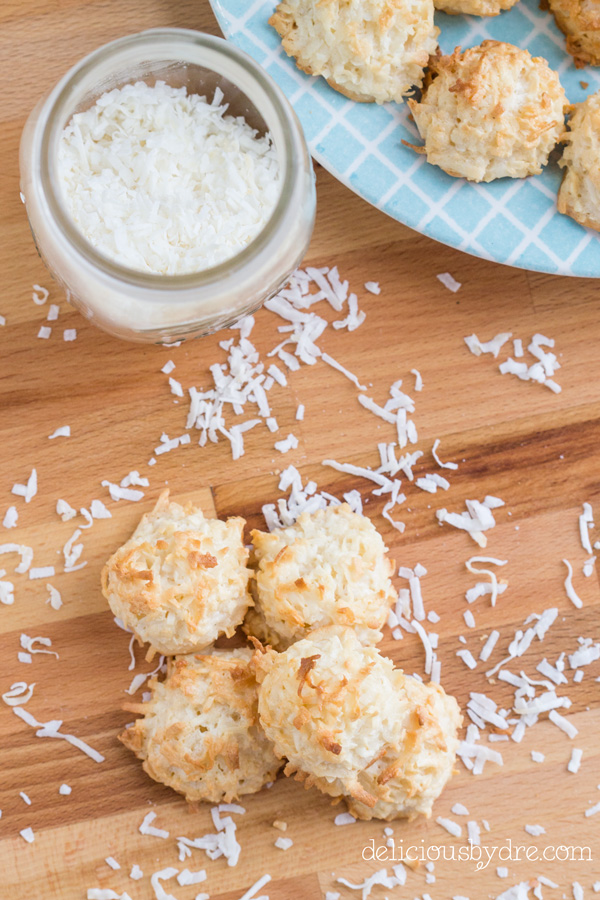 i slightly modified the preparation… here are some (tested) tips for success:
use real egg whites, not the liquid kind.  (i'm telling you this from trial & error!)
make sure there is no yolk whatsoever…just whites.
egg whites are easiest to separate when cold, but easiest to whisk at room temperature… separate them and then let them set for about 30 minutes before whisking (or not–i'm just telling you what works best!)
beat the egg whites with a mixer… it allows more air in as you mix creating more volume and a fluffier mixture.  all these factors create a moister macaroon.
start whisking slow, gradually increasing to a medium speed, then add in a splash of lemon juice… this helps stabilize the egg whites and maintain the volume you are creating.
slowly added in the sugar & protein powder… a few tablespoons at a time.  this will also help maintain your volume and keep your mixture light and fluffy.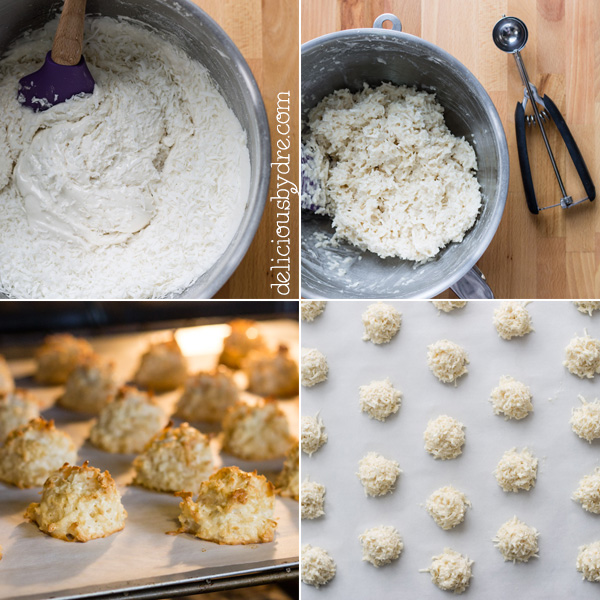 the mixture looks so fluffy and heavenly at this point that it is hard to resist the temptation to lick the whisk and taste it… but it's raw egg… so don't make yourself sick.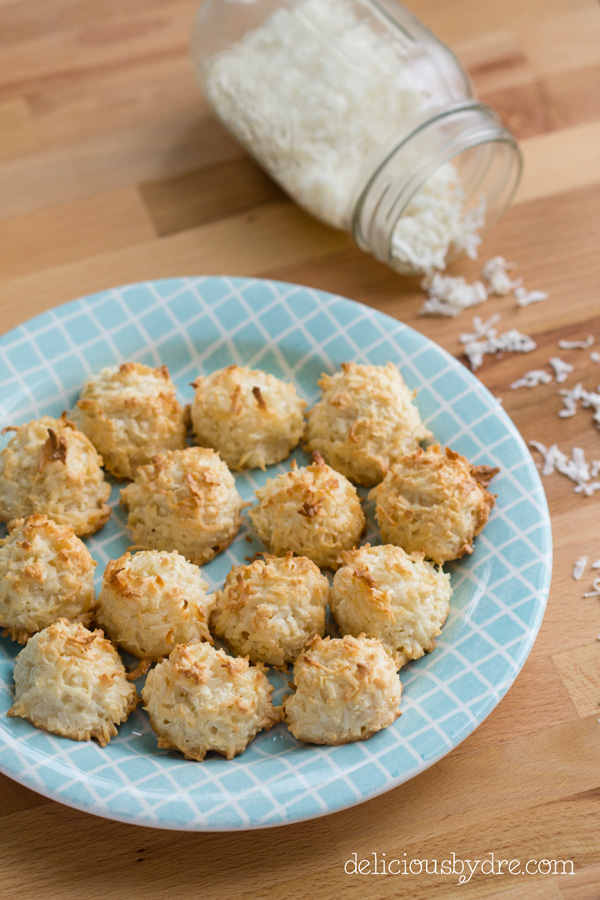 next, you'll fold in the shredded coconut flakes… i used unsweetened.  because of the sweet vanilla flavor of the protein powder i used,  sweetened coconut may have been too much… but to each their own.  you may use either… or half and half.  this final mixture should be very wet… adding too much coconut will cause your macaroon to crumble after baking.
these cookies have just the right about of crisp on the outside and are soft and chewy on the inside… plus, they are less than 50 calories each!  i won't make you wait any longer… here is the recipe:
protein coconut macaroons
ingredients
4 egg whites (at room temperature)
3/4 cup organic cane sugar
splash of lemon juice
1/2 cup (about 2 scoops) vanilla protein powder (i used protizyme)
1/4 tsp almond (or vanilla) extract
1/4 tsp salt
4 cups unsweetened shredded coconut
instructions
using stand mixer with whisk attachment, whisk egg whites on medium-low for about 2 minutes, then add splash of lemon juice. continue whisking on medium for about 2 more minutes, or until egg whites begin to look nice and fluffy. slowly add in sugar as you continue to whisk, followed by protein powder, vanilla and salt.
stop whisking and stir in shredded coconut.
preheat oven to 325 degrees and cover a baking sheet with a piece of parchment paper.
drop tablespoons of dough down about 1 inch apart (i used a small cookie scoop).
bake for 20-23 minutes, or until the tops and bottoms develop a nice golden crust. (i left these in for exactly 23 minutes) remove from oven and let set for a few minutes before transferring to cooling rack.
Notes
store at room temperature for up to a week. i did NOT store with an airtight seal to try and preserve the crisp on the outside of the cookies.
https://deliciousbydre.com/protein-coconut-macaroons/
© copyright. deliciousbydre.com
34 week pregnancy chalkboard art…