i've been totally m.i.a. for exactly one week now.
my husband and i traveled to nebraska over thanksgiving to see my father & grandma, along with aunts, uncles & a slew of boy cousins too!  yes, i am my grandma's only (and favorite) granddaughter! :)
okay, before i give you the wrong idea, let me clarify…by traveled, i mean drove.  drove for 10 hours…each way!!  then i think about my mom & (step)dad traveling to vietnam for thanksgiving this year…and their 30 hour flight…each way!!! 10 hours in a car suddenly doesn't seem so bad!
…but then I think about the 17+ hour drive to michigan we will be making over christmas to see my husbands family…and I feel sick all over again!
at least thanksgiving was a success!  i am happy to announce that i tricked everyone into eating my protein pumpkin pie & cauliflower "mashed potatoes"…without them even knowing it was healthy!  hah!
now that the holiday season is upon us at full force, it usually means traveling, family time, and cooking…for lots of people!!  with that in mind, this recipe could be your life saver.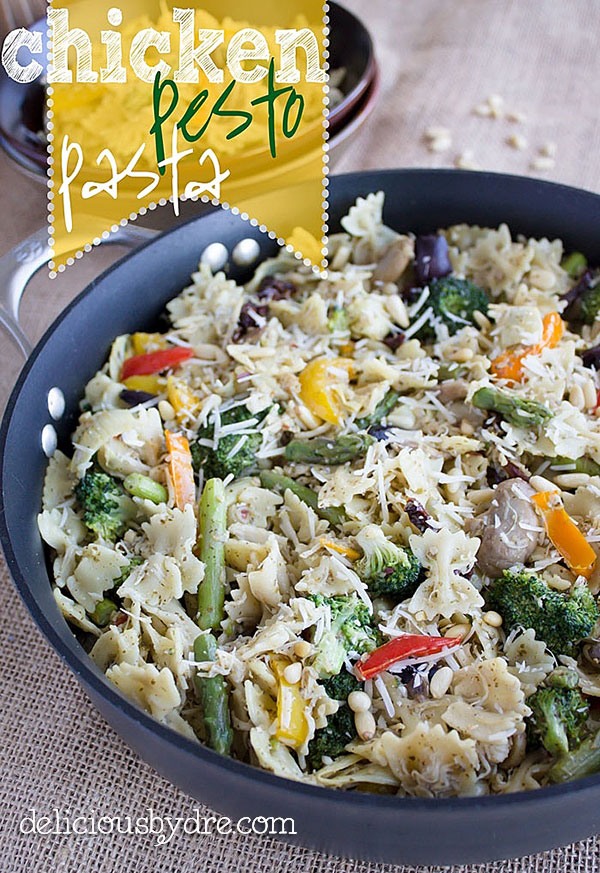 this is a healthy recipe fit for an italian sized family!  it's perfect for parties, church gatherings, bringing to friends/families in times of need, or in case of emergency when you offer to bring dinner to a family of 7!! :)  it can be re-heated super quick and still tastes amazing!
i've had this recipe for years now.  i'm pretty sure my very first client i ever trained gave it to me (who has since become known as my "gym-mom") and i have tweaked and modified and added something to the recipe every time i make it, until now.  it's finally perfect, with just the right combination of protein and veggies to go with the cute lil bow tie pasta in it.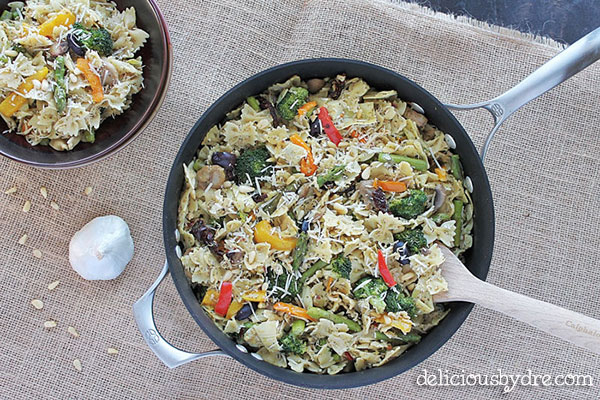 advice from dre: if you're anything like me, you just dive into a recipe right away, sometimes with out even reading the instructions completely. :)  to make this recipe a breeze, just prep all of your ingredients first. (even before you start the pasta!) this may sound like common sense to all you perfectly organized, clean-as-you-go cookers out there, but i'm sure somebody will appreciate this warning.  if you don't have everything ready to go before you start, things might get a little hectic! :)
for a small family of 2 like my husband and me, this dish makes delicious leftovers for at least a week! :)
ingredients
1 package (16oz) barilla plus farfalle pasta (high protein pasta)
1 crown of fresh cut broccoli florets
1 bundle fresh asparagus (ends trimmed, cut into 1-2 inch pieces)
1 bell pepper, sliced into 1 inch pieces (i used 1/3 red, orange, & yellow to make it colorful)
1 pint fresh portabello mushrooms, sliced (1-2 cups)
2 tbsp olive oil
2 cloves fresh minced garlic
1 cup sun-dried tomatoes, roughly chopped
1 can (14 oz) water-packed quartered artichoke hearts, rinsed and drained
1/3 cup kalamata olives (pitted and halved)
2 cans (12.5 oz each) premium chunk chicken breast, rinsed and shredded
1 jar (7 oz) pesto sauce, you can also buy this fresh at whole foods or central market
1 tsp garlic salt
1 tsp crushed red pepper flakes (optional)
parmesan & romano shredded cheese (topping)
~1/2 c pine nuts (topping)
instructions
cook pasta in a large stock pot according to directions, adding the broccoli and asparagus during the last 3 minutes of cooking.
meanwhile, in a large skillet, sauté the bell pepper and mushrooms in the olive oil until tender.
add garlic and cook about 1 minute longer. reduce heat, then stir in the sun dried tomatoes, artichoke hearts, olives, chicken breast, pesto, and garlic salt. (add in red pepper flakes here too!) cook an additional 3 minutes, until heated through.
drain pasta and green veggie mixture and put back into the large stock pot (this was the only thing i had big enough to hold it all and mix it well!) combine with chicken pesto mixture until evenly mixed.
cheese and pine nuts can be sprinkled on top before serving, according to preferences.
Notes
*** holiday idea *** use all red bell peppers for a festive red & green christmas dish that everyone will love!
https://deliciousbydre.com/chicken-pesto-pasta/
© copyright. deliciousbydre.com