a buttery, moist dessert bar that's secretly loaded with vitamins and nutrients.  you don't have to tell a soul!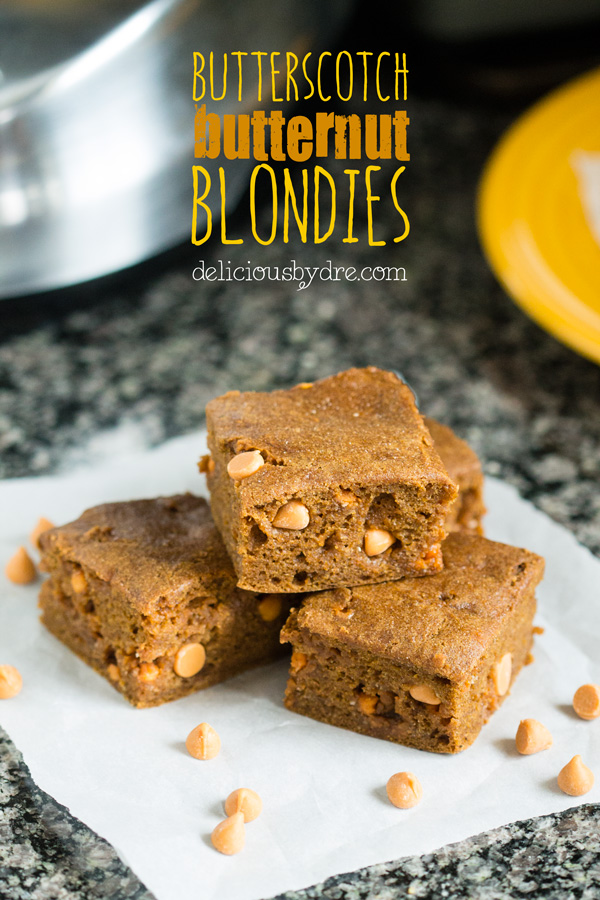 this recipe is practice.  practice for mommyhood.  practice for the task of getting kids to eat (and love!) their veggies.  all veggies.  even weird veggies.  veggies shaped like the planters peanut mascot.  :)
i was really sick last week and have fallen a little behind with posting, but somehow i've managed to get every single week's chalkboard art done just in time for the next week to start… so i'll catch you up, no worries.  this week, i give you a recap of week 29: baby is the size of a butternut squash.  (and he is squashing my insides more and more each day!) squash may seem like a savory dish ingredient but don't let this sneaky little veggie fool you.  this dessert is legit.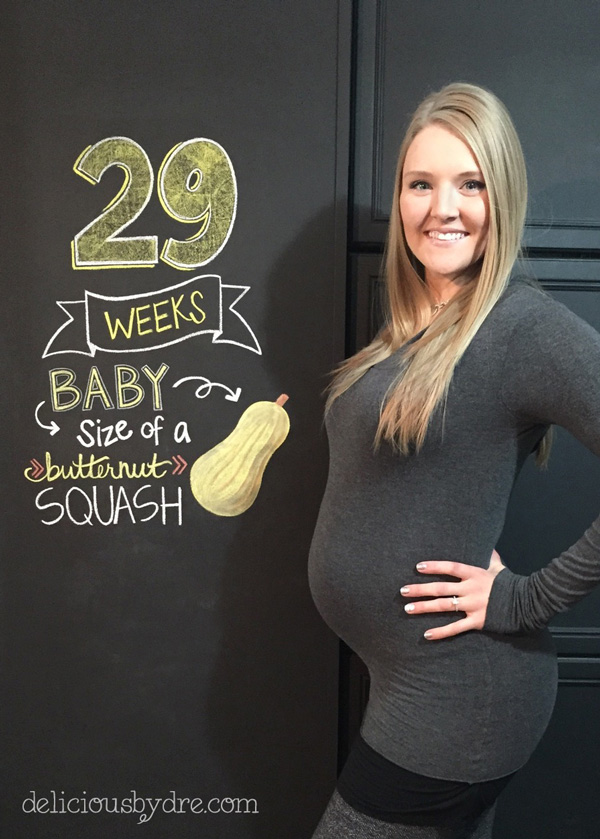 have you ever roasted butternut squash before??  you can salt & pepper it and drizzle a little olive oil on top and make it edible… but i had never tried roasting it with sweetness until now.  if i'm completely honest, these blondies almost didn't get made.  once roasted and pureed, i naturally taste-tested the squash.  it took everything inside me to not stop all baking and devour the entire bowl… or better yet, put it in the fridge and turn it into pudding!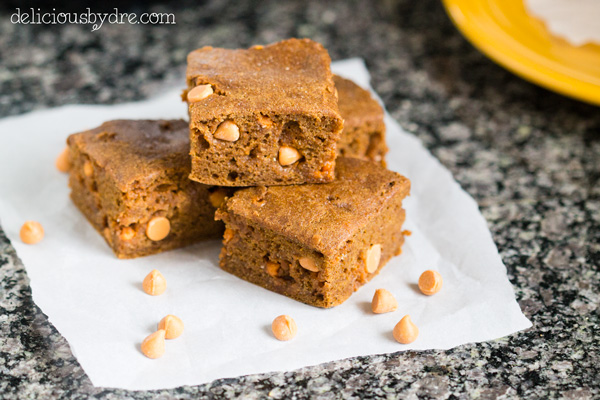 if this is what baby food tastes like, sign me upppp!  if not, make this for your baby… they will devour it.  best part?  the sweetness is from coconut sugar, so it won't spike your little babe's blood sugar.
okay, i take part of that back… the best part is using the butternut squash puree and making these healthy blondies out of it.  a healthy dessert that won't blow your new years resolution to eat clean.  (that's right, using real, organic butter will not blow your diet.  a little bit is actually good for you!)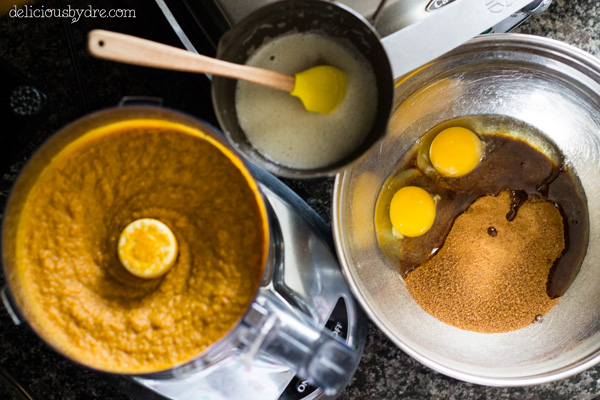 if you've ever heard of chocolate covered katie, you're probably familiar with how she revolutionized blondies. forever.  katie healthified traditional blondies by recreating the batter using chickpeas… and the result was epic.  if you've never heard of these blondies i speak of, you can check the recipe out here.
if she can make blondies out of chickpeas, i can sure make them out of butternut squash!  boom.  this recipe was created.  and butterscotch chips were added.  and omg–yummmmm!!  (i don't like to toot my own horn, but they are really good y'all!)  you don't have to tell anyone what they are made of… no one will ever know! :)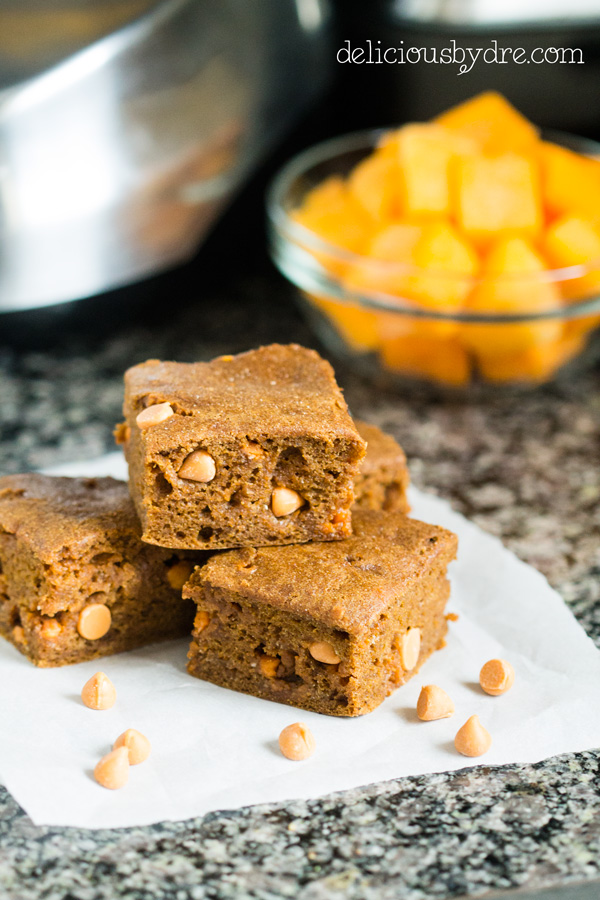 a few side notes before you begin:
1. if you are feeling overwhelmed by having to cut up a butternut squash into cubes, you're not alone!!  costco was re-established as my favorite store ever when i saw fresh pre-cubed butternut squash in the refrigerated section.  don't make it harder than it has to be… just sayin.
2. these butternut blondies are made with gluten free flour (i used namaste brand), but you can easily make them with regular flour too.  if you omit the butterscotch chips, they are also refined sugar free.
3. one last little detail i wanted to mention was the browned butter.  the nuttiness of the browned butter goes so perfectly with the butternut squash.  browning your butter is not a must, but i highly recommend this extra little step… it only takes a few minutes!
butterscotch butternut blondies
ingredients
for roasting the squash:

3 cups 1" cubed butternut squash
2 tbsp grapeseed (or olive) oil
2 tbsp coconut sugar
2 tsp cinnamon
1/4 tsp ginger

for the blondies

1 1/4 c. (172 g.) gluten free flour
1 tsp baking powder
1 tbsp cinnamon
1/2 tsp nutmeg
1/4 tsp cinnamon
1 c. coconut sugar
2 large eggs (at room temperature)
4 tbsp (cooled) browned organic butter
1 c. butternut squash puree
2 tsp vanilla
1/2 tsp salt
1 c. butterscotch chips
instructions
roasting the butternut squash:

preheat oven to 400 degrees.
toss cubed butternut squash in 2 tbsp oil and add coconut sugar, cinnamon, and ginger. toss until coated. spread out evenly on foil covered baking sheet and roast on center rack of oven for 15 minutes. then, using a spatula, toss squash around and return to oven for another 15 minutes. repeat once more (for a total of 45 minutes in the oven) or until squash begins to soften.
place roasted squash in a food processor or high-powered blender and puree until smooth. allow squash puree to cool before adding to blondies. (store in air-tight container for up to one week prior to making blondies... or just eat the squash puree as pudding!)
next, brown your butter so it can cool slightly while you prepare the blondies. simply place the butter in a small saucepan over medium heat. stir consistently as the butter bubbles and foams up. after about 3-5 minutes, you will notice a slight change in color from yellow to light brown. as soon as the butter smells nutty, remove from heat and allow it to cool.

baking the blondies:

preheat oven to 350 degrees and line an 8x8 baking dish with parchment paper and set aside.
sift together the flower, baking powder, cinnamon, nutmeg, and ginger into a medium bowl and set aside.
in a large bowl, whisk together the eggs and coconut sugar until mixed well. using a spatula, add in the browned butter, butternut squash puree, vanilla and salt and mix until just combined. add the dry ingredients to the wet and mix until flour is just incorporated. fold in the butterscotch chips and then pour batter into baking dish.
bake at 350 for 35-40 minutes, or until color of blondies is fairly consistent across entire dish and toothpick comes out clean. remove from oven and allow to cool completely on a wire cooking rack before removing from pan. once cooled, remove from pan, cut into squares, and enjoy!
Notes
store in airtight container at room temperature or in fridge for up to one week.
https://deliciousbydre.com/butterscotch-butternut-blondies/
© copyright. deliciousbydre.com