puppy cane chow… or peppermint puppy chow.  whatever you call it, just know it's the most addictive puppy chow ever… with a hint of peppermint and dusted with candy cane powdered sugar.  yummmmm!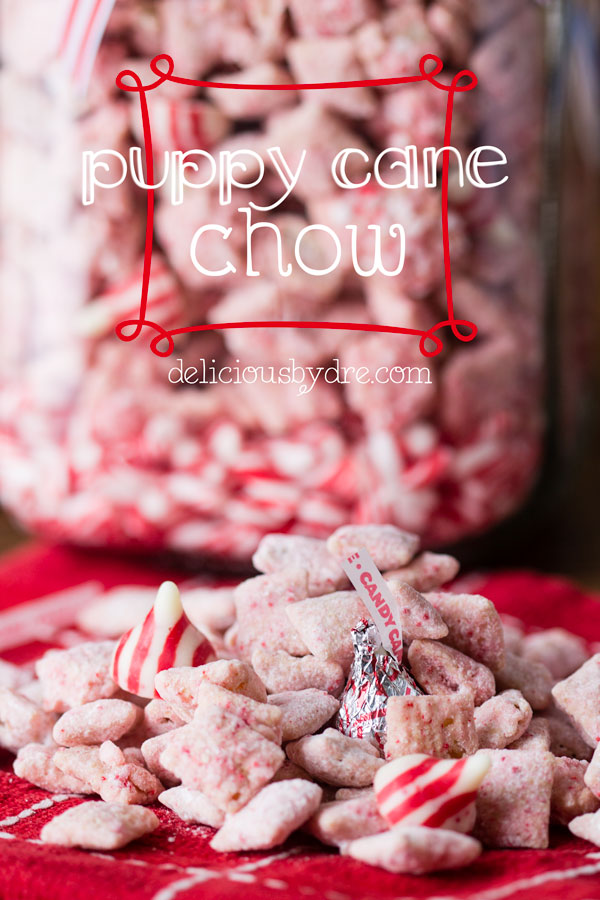 greetings from grand rapids, michigan!  we travel up here every christmas to see my husband's family.  white christmases… that's what michigan is good for.  that's what makes the 17 hour drive worth it.  (well, that and the christmas crack my father in law makes every year!)  except there is no snow this year. :( it's a total bummer.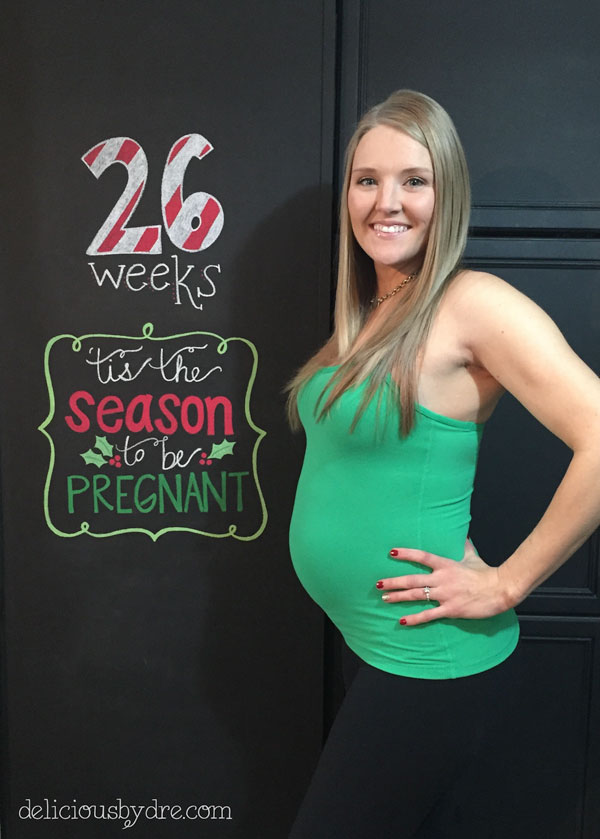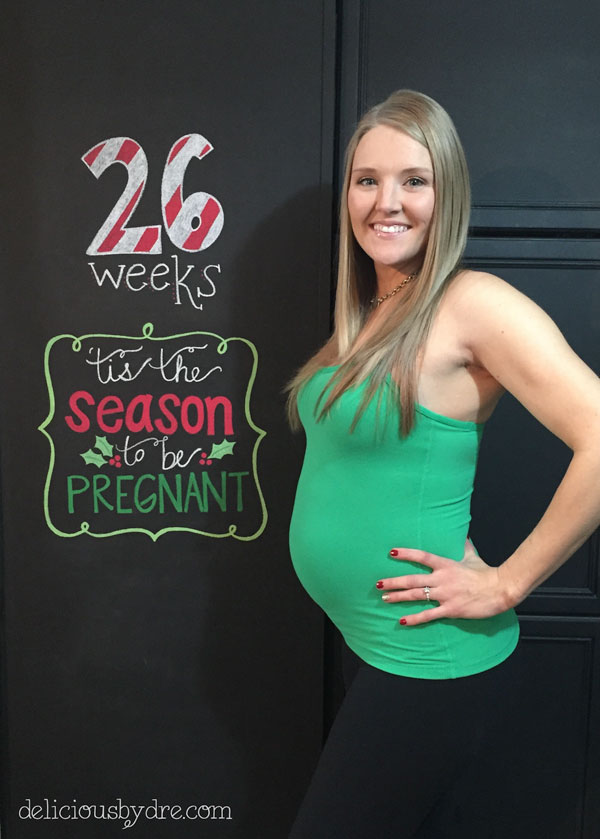 it's also a bummer i didn't get this recipe out to you sooner… life has been crazy and exhausting with all the baby growing i've been doing.  but i managed to get this recipe whipped up for an ugly christmas sweater party a few weekends ago and it was an epic hit.  there wasn't a single morsel left.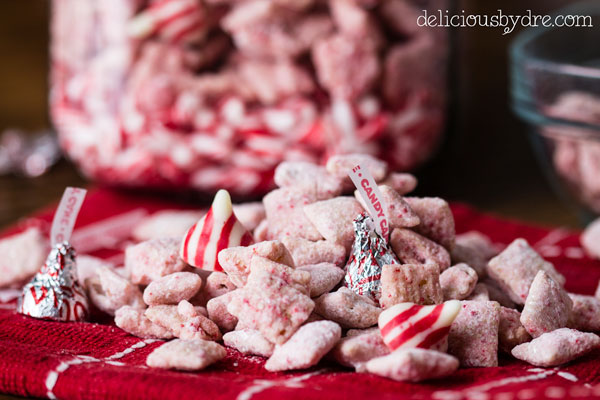 this week i'm breaking all my "rules" because nothing matches up with the size of the baby and no part of this recipe is even remotely healthy.  however, it is gluten free… if that even matters at this point.
okay, i guess that leaves one rule i didn't break… it's flippin' delicious!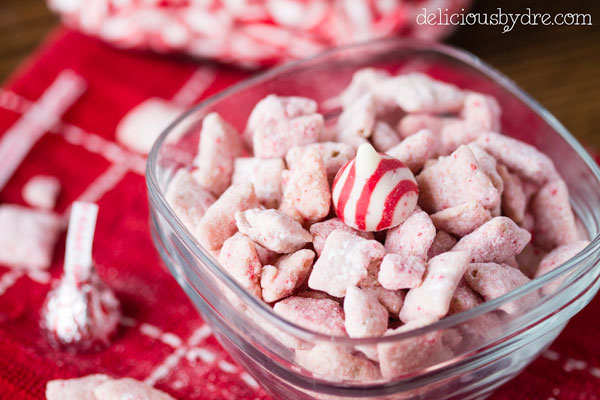 chex cereal, peppermint kisses, candy canes, and powdered sugar came together to create christmas magic…
and as a bonus, it's easy to make… start to finish in under 15 minutes.  however, it's so good that i would slave over this recipe for hours if necessary.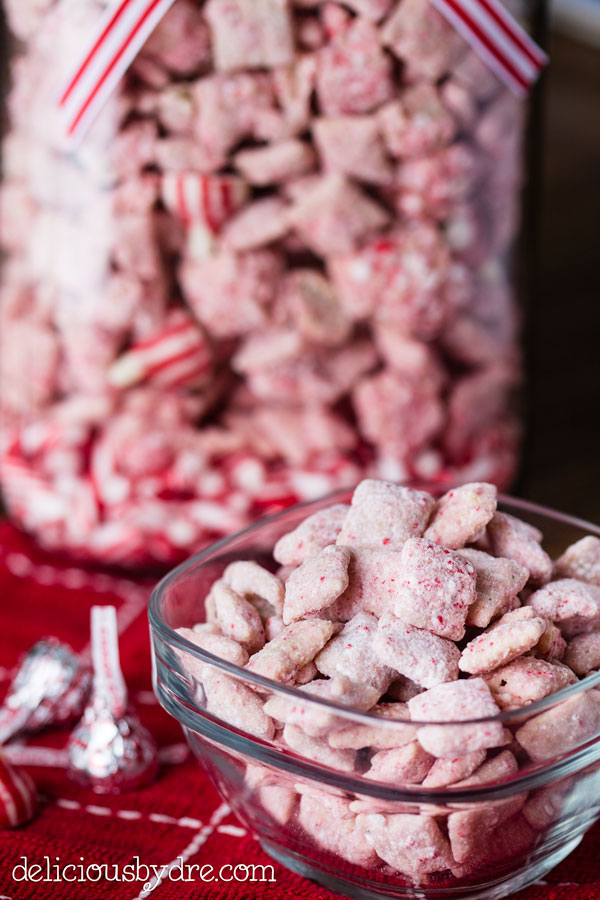 after melting down the peppermint kisses and coating the cereal with the liquid white chocolate, i used a combination of powdered sugar and crushed candy cane on top.  it worked best to dust with the candy cane powder first and then use the powdered sugar at the end to cover anything missed.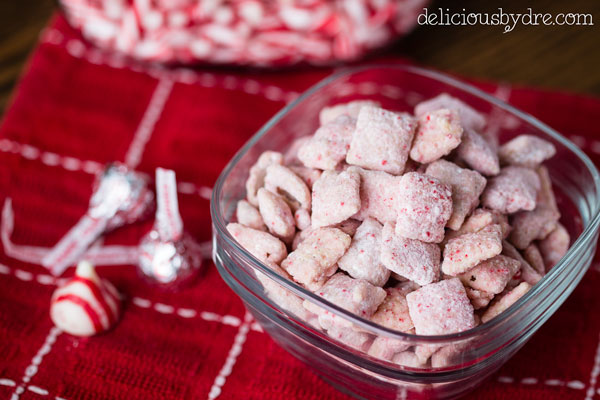 i tried using the old candy canes in a bag method and crushing/beating them with a rolling pin method.  if you don't have access to a food processor or blender, this would work.  however, i don't recommend it.  here's the deal… candy canes can be sharp!! 2-3 layers of heavy duty ziplock baggies are necessary unless you want a sticky, powdery mess everywhere.  and it leaves lots of large chunks of hard candy in the mix which might not feel so great on your teeth when biting into it.
a food processor gets the peppermint candy down to a dust and it becomes a peppermint/candy cane flavored powdered sugar.  it's heavenly.  especially for a pregnant woman who has been craving peppermint like crazy!  i'm quite certain Jesus would want us to celebrate his birthday this way. :)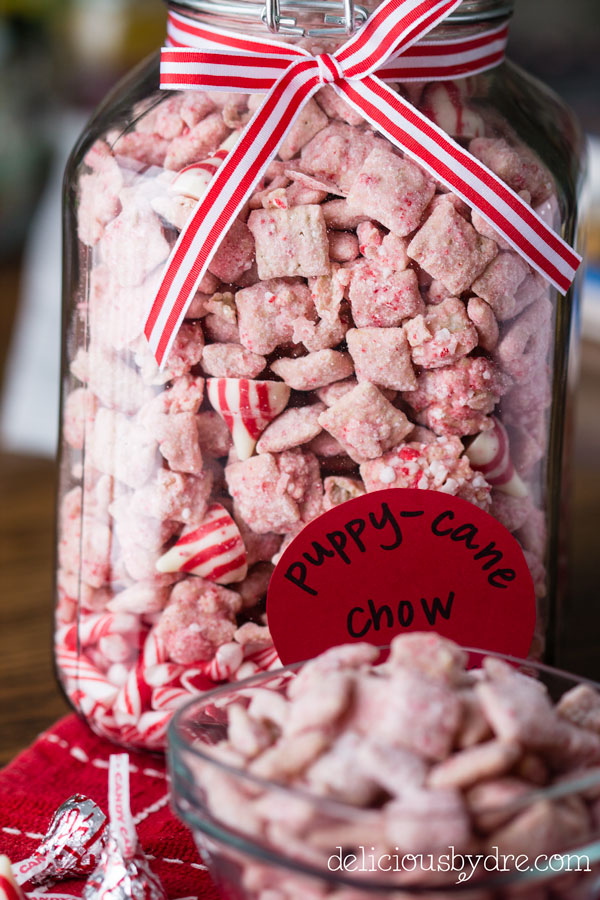 these make great little mason-jar gifts around the holidays.  (i know it's a little late for that now, so just pin it for next year!)
and the pinkish tint this puppy chow comes out with would make it super cute for valentines festivities too!
ingredients
3 cups rice chex
3 cups corn chex
10 oz peppermint kisses
1/2 cup candy canes, processed into a fine powder
1/2 cup powdered sugar (more if needed to evenly coat cereal at end)
instructions
using a double boiler (or microwave) melt down the chocolate kisses on low heat until liquid.
slowly pour melted chocolate onto chex mix in about 3-4 parts, tossing the cereal to evenly coat it in-between.
once evenly coated, sprinkle powdered candy cane on top, tossing as you go to evenly coat. finish by dusting powdered sugar on top.
Notes
(final step can be done in a ziplock bag, i just found it easier/less messy to toss it in the bowl.)
stores in airtight container for weeks... if only it lasted that long in our house!
https://deliciousbydre.com/peppermint-puppy-cane-chow/
© copyright. deliciousbydre.com