a juicy peach cobbler with a sweet crumbly streusel topping.  gluten free and refined sugar free, this is one decadent dessert you won't feel guilty about enjoying!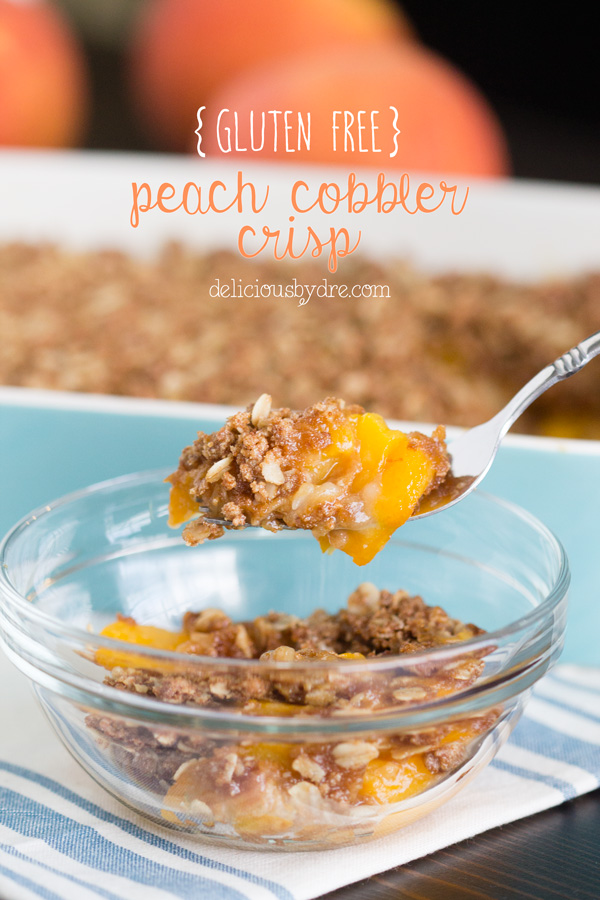 it's week 13 and baby is the size of a peach!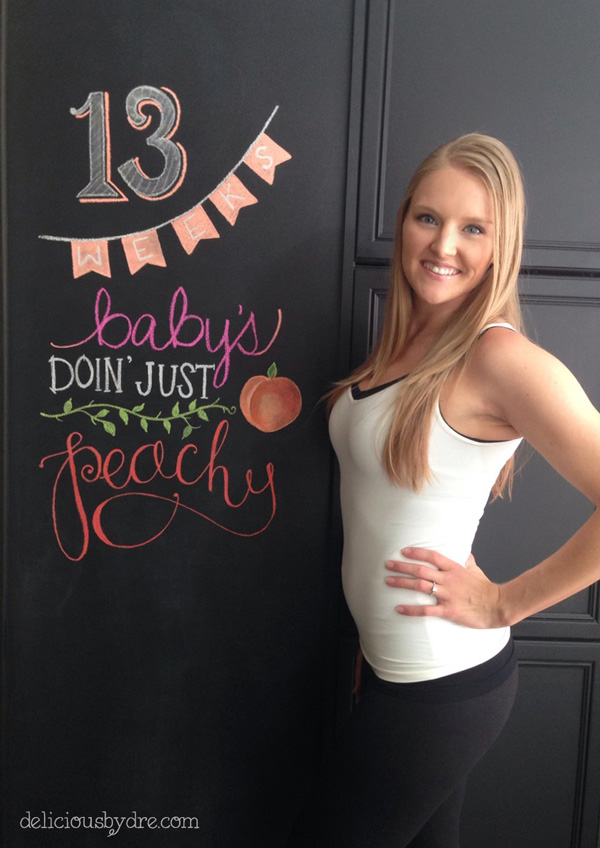 you (my amazing readers) have been exclusively privy to my baby news and bump updates up to this point.  (that's how much i love y'all!)  however, lil baby is now "fbo" (facebook official) and i was overwhelmed with all the responses and sweet messages we received.  thank you all.  from the bottom of my heart–and my belly! :)
now about this peach recipe… it all began while at the lake over labor day weekend.  i tasted what was supposed to be the "best peach cobbler ever."  unfortunately, i was left feeling completely underwhelmed… and determined.  i was going to give my readers a mind blowing peach cobbler;  one that you would never guess was healthy!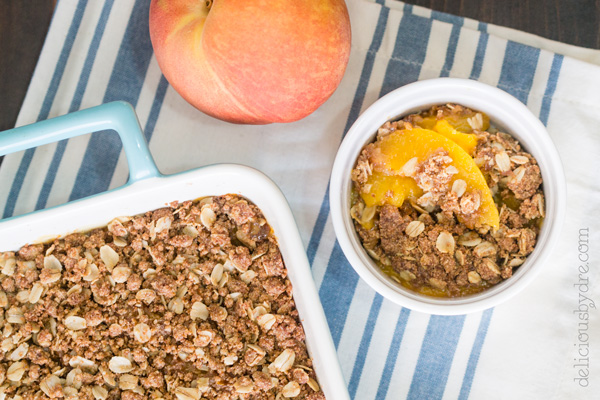 spoiler alert: mission accomplished.  i scraped out the leftovers for breakfast this morning.  (don't judge.)
this peach cobbler almost reminds me more of an apple crisp… where the crumbly streusel topping infiltrates every bite.
does that mean it's technically no longer considered a cobbler?  maybe, but who cares when it tastes this amazing?!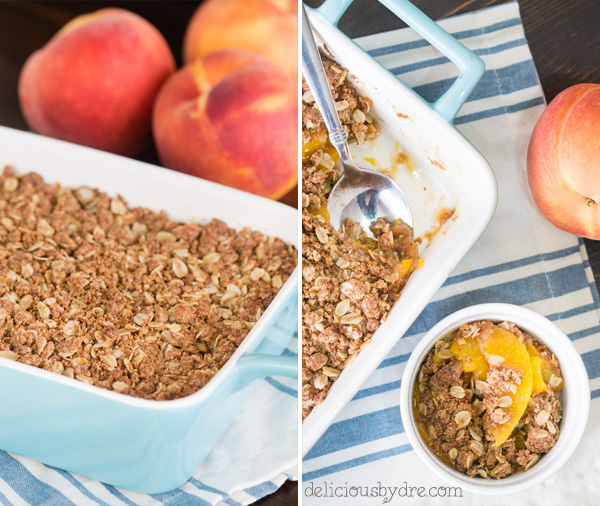 if you've ever heard of an oatmeal cookie peach cobbler, this recipe takes out the egg & baking powder that makes the cookie topping hard.  it's like taking the best of both worlds!
the beauty of this recipe is that it's pretty flexible.  (you most likely have everything on hand to make it!)  to make things as easy as possible, i've included a few helpful tips and ingredient substitutions for you:
the peaches: they can be fresh or canned.  costco has some available in large mason jars.  i simply strained out the juice and sliced the thicker peaches into thinner slices.  if using fresh peaches, peel & slice them, then toss in 2 tbsp coconut sugar before mixing up the topping.  this will help bring all the juices out of the fresh peaches, ensuring a nice and juicy cobbler.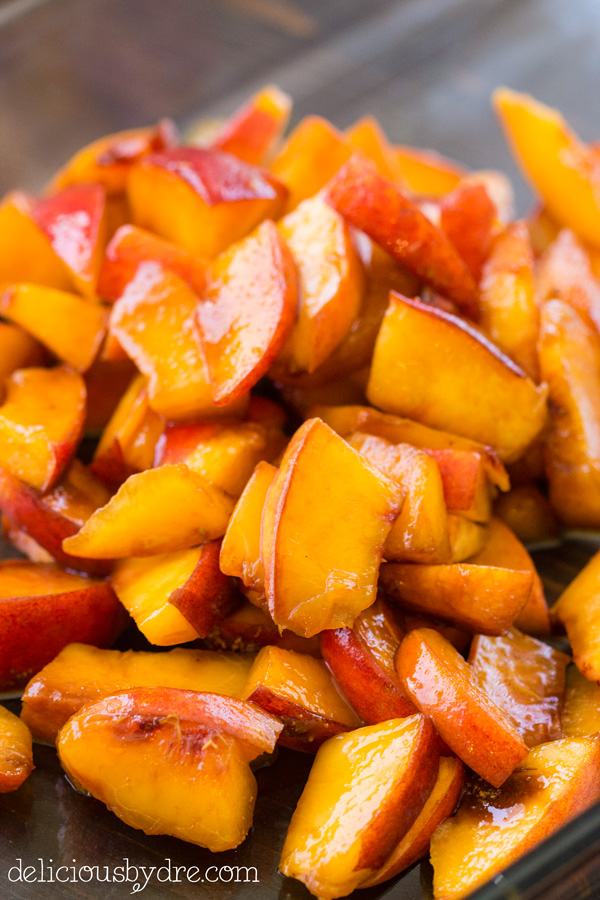 this recipe calls for gluten free flour… i used "namaste" brand, but any gluten free flour will do.  if you're not concerned with the gluten free part, just substitute regular flour; it'll work just the same.
i also used coconut sugar as opposed to white or brown sugar.  coconut sugar is super low glycemic, so it makes this recipe great for diabetics or anyone watching their blood sugar.  okay really, anyone with tastebuds.  (see for yourself!)
week 13: gluten free peach cobbler crumble
ingredients
topping

1 cup coconut sugar
1 cup oatmeal
1 cup gluten free flour
6 tbsp organic butter, melted (i use kerrygold)
2 tsp vanilla

filling

4 cups sliced peaches (fresh** or canned)
1 tbsp fresh lemon juice
1 tbsp gluten free flour
instructions
preheat oven to 350 degrees.
slice peaches (add sugar if using fresh) and coat with flour & lemon juice. set aside.
mix together all dry ingredients used in the topping. add vanilla to melted butter and combine with dry ingredients and mix together with a fork until crumbly.
spray a 9x6 baking dish with non-stick spray.
spread a very thin layer of topping on bottom of pan, then evenly spread peaches out, then top with remainder of topping.
bake for 40 minutes, or until top begins to turn a golden color and peaches are bubbling up.
Notes
**if using fresh peaches, add 2 tbsp coconut sugar
cover and refrigerate leftovers for up to a week, reheat at 350 for about 10 minutes.
http://deliciousbydre.com/gluten-free-peach-cobbler-crisp/
© copyright. deliciousbydre.com