a smooth and creamy lemon melt-away inside a hard white chocolate shell.  just the right amount of tart balanced perfectly by the sweet candy shell.  you don't even have to be a lemon-lover to drool over this dessert!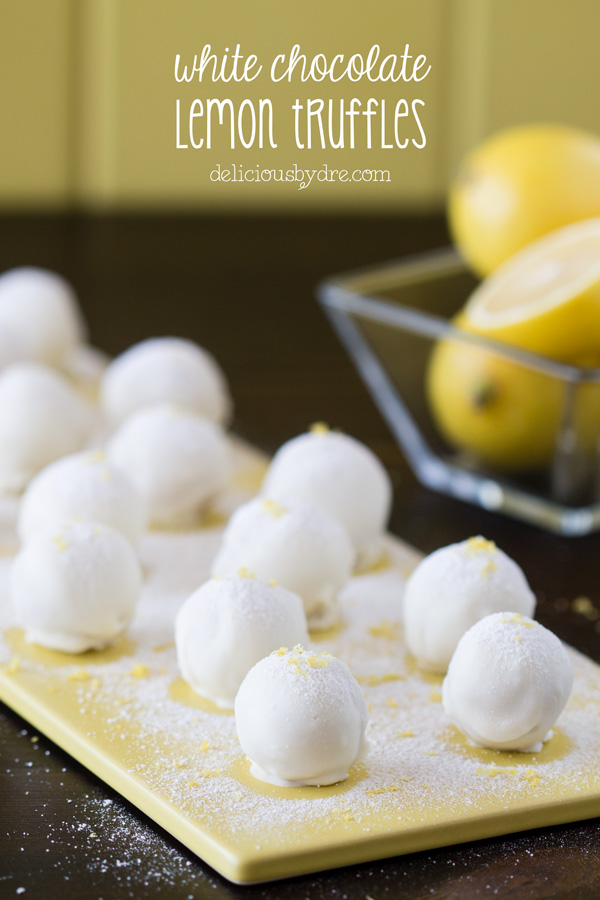 i am not a lemon lover.  i'm a fan of lemonade… that's about it.  a lemon pie or lemon tart just doesn't do it for me.
(now my husband is a different story.)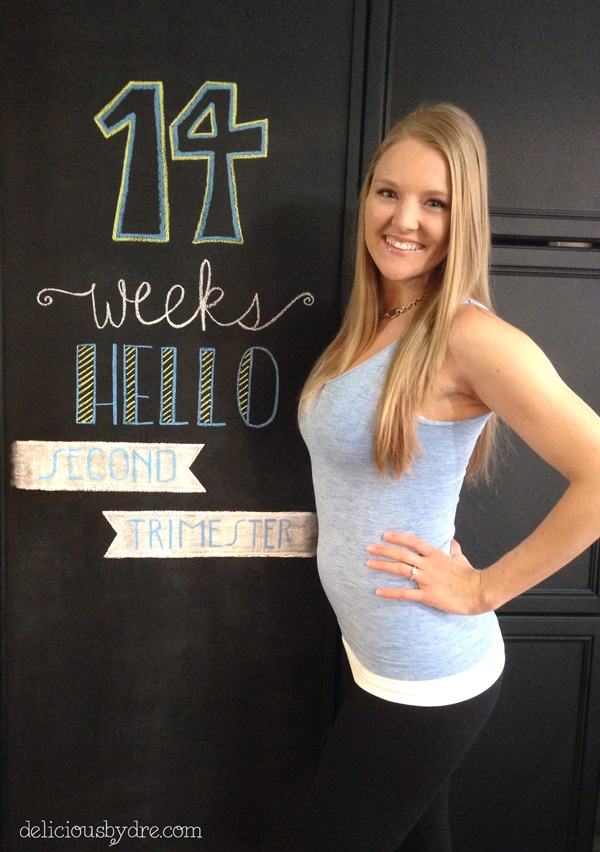 this week the baby is the size of a lemon.  oh joy, a lemon recipe.  i've been dreading the creation of this week's recipe since the beginning.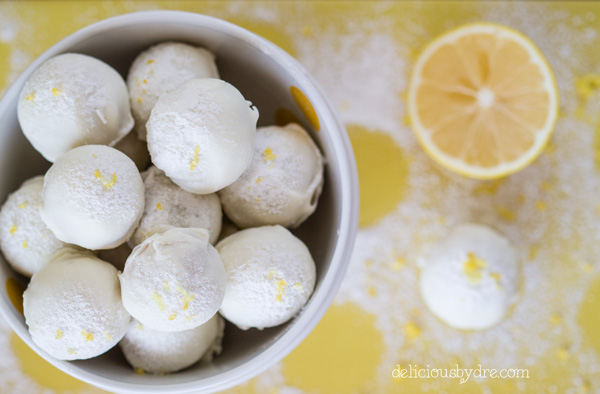 that is, until i created this recipe!  let me assure you, you do not have to love lemon to be obsessed with this recipe.  is obsessed too strong of a word?  i've made them 4 times in the past 3 days… i'll let you decide. :)
this week, i learned a very valuable lesson the hard way: not all blogger recipes are created equal.  i'm sure that doesn't sound like an earth-shattering revelation, but based on the recipe i tested this week, it's probably safe to say some bloggers don't even taste-test their recipes before posting them for the world to recreate.  if you've ever been a victim of this suffering, i am so very sorry.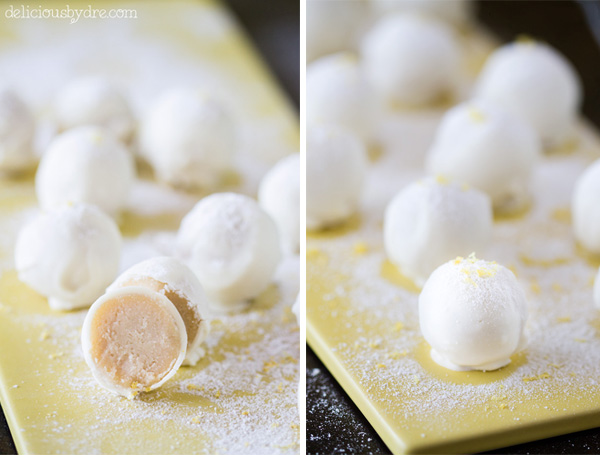 the 14th week of pregnancy was quickly approaching and i still had no ideas about a lemon recipe for you.  in my skilled procrastination, i stumbled across a healthy "lemon melt away" recipe on instagram.  perfect, i'll just do a repost and feature this other person's recipe!  wrong.  i love and value y'all far too much to share the said recipe with you.  (seriously, even my lemon-loving husband disapproved!)
it took a lot of crafty ingredient modification to finally get this dreamy end result… but it ended up being worth every bit of trouble.  i think you'll agree.  :)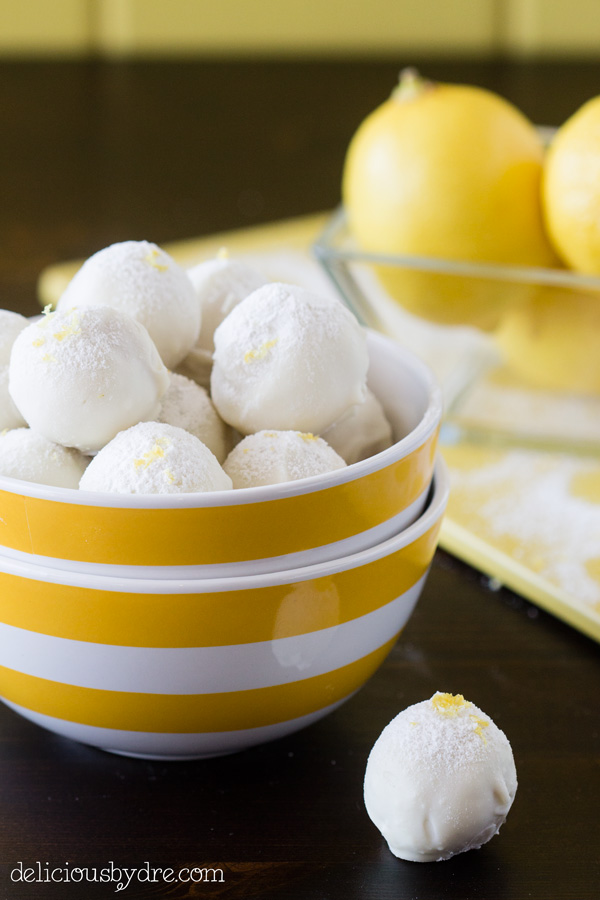 these truffles have such a clean sweetness to them that hits just the right balance between sweet and tart.  the best part is that you can cater them to a variety of diets.  they are gluten free and almost vegan (minus the white chocolate outer shell).   however, you wont be disappointed with the addition of white chocolate…  i promise. :)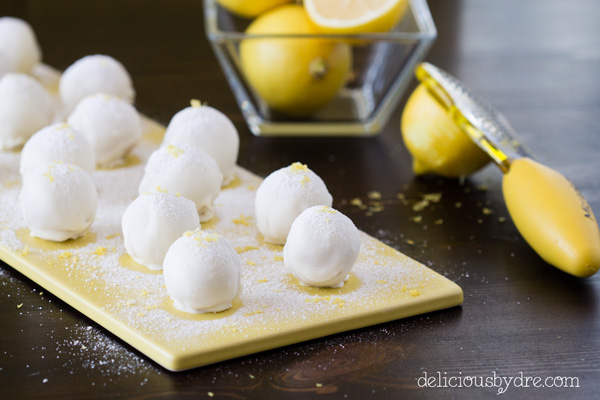 the inside of these lemon truffles is so simple.  you wont need a bunch of bowls or dishes or even an oven… just a food processor (a blender would probably work as well).  dump all ingredients in the food processor and blend until the majority of the dough becomes a giant ball.  then scoop out small little balls of dough and roll them into perfect spheres.  i found a small (2 tsp measure) cookie dough scoop worked great to get all the balls equal sizes.  i scooped them all out onto parchment paper, then smeared some coconut oil on my hands and rolled each one into a perfectly round shape.  if you're keeping it vegan, you're done… just put them in the fridge until chilled and enjoy.  for the truffles you see pictured, place them in the freezer to harden (for about 15-20 min) while melting your white chocolate in a double boiler on the stove.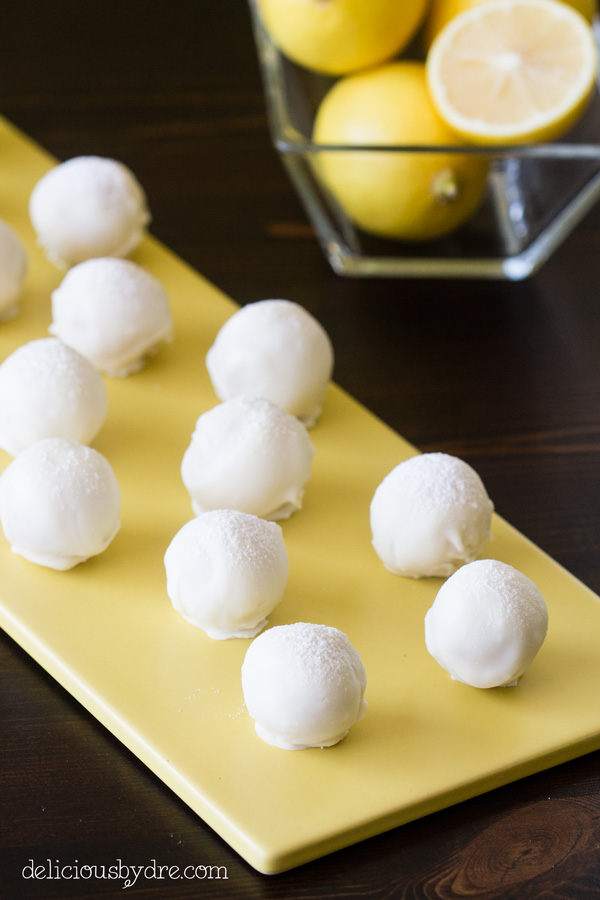 dip each ball in the melted chocolate and use a fork to transfer truffles back onto parchment paper.  the topping is optional… didn't have any powdered sugar on hand, so i just put a 1/4 cup of organic cane sugar in my blendtec on high until it created a nice sugary smoke.  i dusted a little powdered sugar and lemon zest on top of each truffle for the sole purpose of making it look "pretty." ♥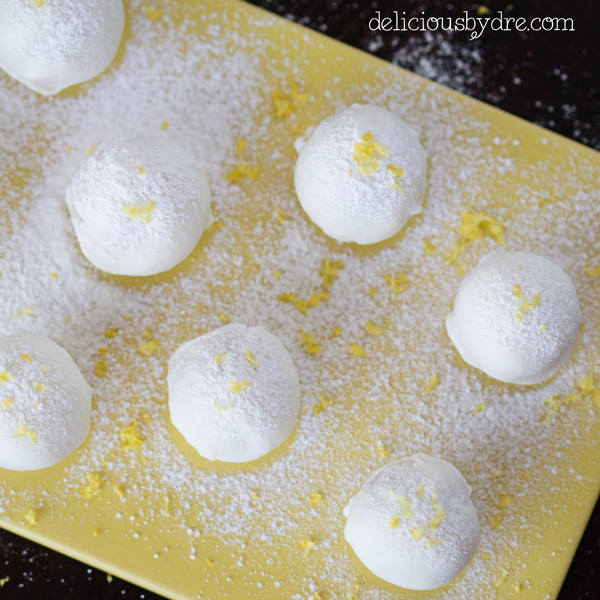 after making these 3 times, the best way is to top them with lemon zest before white chocolate hardens, then refrigerate them.  when you remove them from the refrigerator before serving, the temperature change causes a slight condensation on the outer chocolate shell.  sprinkle the powdered sugar on right before serving and the condensation will make it stick!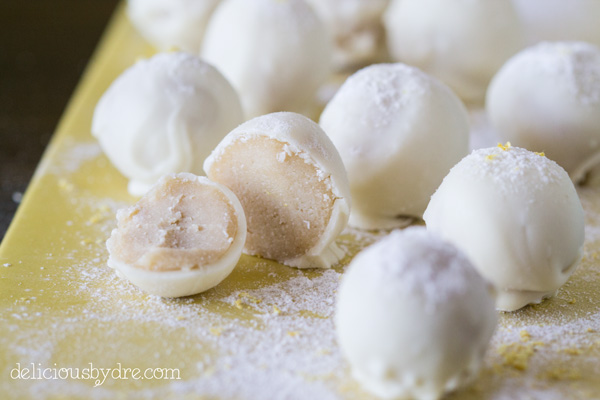 white chocolate lemon truffles
i used honeyville almond flour and it gives the smoothest texture to the inside of the truffles. other brands of almond flour may result in the center being a little grainy.
ingredients
filling

1 1/2 cup almond flour (i use honeyville)
1/3 cup coconut flour
1/4 cup coconut oil, melted
3 lemons juiced (save rind for zest on top)
3 tbsp maple syrup (warmed or at room temperature)
2 tsp vanilla
1/2 tsp salt

shell

1/2 bag white chocolate chips
sprinkle of powdered sugar (optional)
instructions
place all (filling) ingredients into food processor and blend until most of dough becomes a giant ball.
scoop out balls of dough measuring approximately 2 tsp each and roll each into a round sphere and set on parchment paper.
place in freezer for 15-20 min.
melt white chocolate in a double boiler on low, stirring occasionally until melted.
dip each ball into white chocolate and return to parchment paper. top with lemon zest if desired.
refrigerate until ready to serve. (lightly dust with powdered sugar before serving)
Notes
store leftover truffles in airtight container and refrigerate for up to a month. or freeze for longer!
http://deliciousbydre.com/white-chocolate-lemon-truffles/
© copyright. deliciousbydre.com