what's better than mom's fresh warm apple crisp straight out of the oven?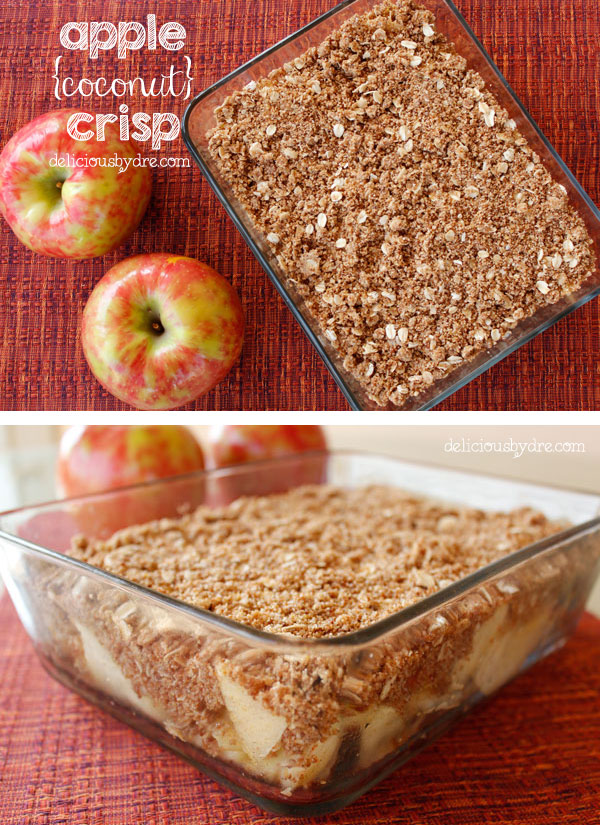 this recipe is.  (sorry mom!)  okay, let me get technical for a quick second…not only does this apple crisp taste amazing, but it's gluten-free and sweetened with coconut sugar which doesn't have any effect on blood sugar what-so-ever!  yep, this recipe is sure to impress any diabetic or health-conscious person over the holidays…or right now!  i'm even including a paleo modification for all my primal peeps!
this recipe had much trial-and-error involved, including several attempts that i thought were perfectly delicious!!  my husband finally approved it this morning…after eating his mama's apple crisp his whole life, he was pretty hard to please on this one.  needless to say i was ecstatic to hear "that is bomb" (his utmost validation) after tasting this variation. :)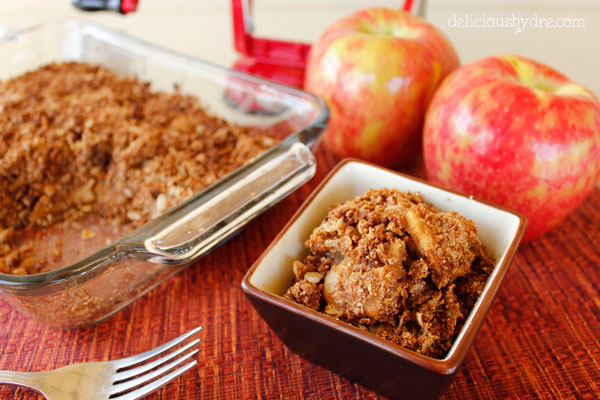 apple coconut crisp
2 lbs of apples (i used 2 honeycrisps–yep, one pound each…now that's a real apple!)
1/2 cup (56 grams) organic coconut flour
1/2 cup (50 grams) almond flour (easy DIY almond flour recipe)
1/2 cup gluten free oats (*paleo substitution* use 1/2 c chopped pecans or slivered almonds)
2/3 cup coconut sugar
1/2 tsp cinnamon
1/2 tsp nutmeg
1/2 tsp all spice
1/4 tsp sea salt
1/3 cup organic coconut oil
2 tbsp organic flax seed
2 tbsp egg whites
1 tsp vanilla
1 tbsp agave (optional)
instructions:
preheat oven to 375
core and slice apples (i used an apple corer, peeler, slicer i found for 10 bucks!)
toss apples with a light sprinkle of cinnamon before placing in 8×11 (ish) glass dish
*optional* lightly drizzle 1 tbsp organic agave over the apples in the dish (gives a more caramelized taste/effect without using brown sugar!)
separately, mix the egg whites and the flax seed together and let sit until needed
add all remaining dry ingredients together in a bowl and mix up with a fork
next add melted coconut oil and vanilla along with the egg white & flax mixture
mix together with fork until it creates a nice crumble
spread evenly across the apples in the dish until completely covered
bake for 30 minutes.
once finished, let cool for at least another 30 minutes or so.
i recommend covering this dish lightly and storing in the refrigerator (if there's any left over!)  sealing it tightly will cause the crumble to absorb the moisture of the apples and it will no longer be crispy!
i got to borrow my friend's dslr camera for a day!  (yes, all my other pictures thus far were taken with my handy-dandy iphone4s! haha!)  i had no clue how to even use a real camera, but thanks to youtube (my dslr for dummies reference), i'm now obsessed and want my own!  so, this post is an ode to an amazing canon dslr; oh how i loved thee. :)