brussels sprouts.
not quite the first thing that pops into my head when i think of something "delicious."  probably not even on my top 10 or top 100 list, for that matter!!
…until now.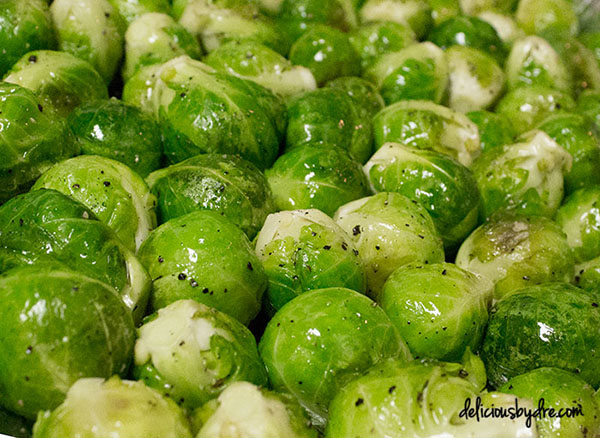 now i am obsessed with brussels sprouts.  these are amazing when hot and fresh out of the oven, but they are my absolute favorite to eat cold…straight out of the leftovers container in the fridge.
(do it, even if you don't believe me…save one, chill it, and try it!)
lets be real…most people hate brussels sprouts.  these are not a quick, easy side dish you can whip up at the last minute…delicious brussels sprouts need a little bit of 't-l-c' in the kitchen.
don't check out on me here.  it's nothing labor intensive…they just need an hour long soak in some salt water before you roast them.  this makes sure they have plenty of moisture inside so we don't burn them to a dark, crunchy crisp while roasting! :)
then, in the last 15 minutes of roasting, i drizzle some balsamic vinegar over the sprouts which creates a delicious glaze over them.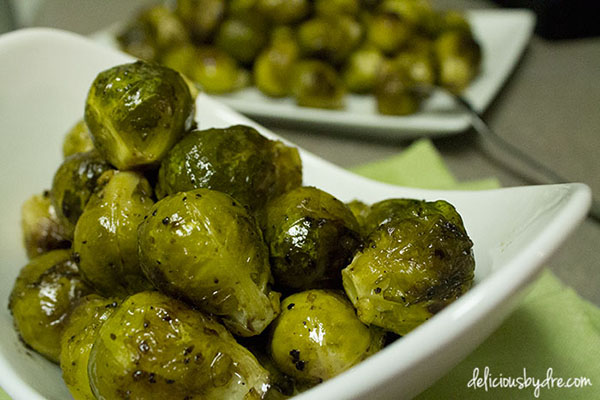 these are not your grandma's brussels sprouts…
**hosting idea** stick a toothpick in each sprout for an awesome, healthy party hors d'oeuvre!!
ingredients
1 pound bag of brussels sprouts (i got mine from costco)
1/4-1/3 cup kosher salt
4-6 cups cold water
2 tbsp olive oil...i usually just eyeball it
1/2 tsp each fresh cracked sea salt & pepper...or to taste
1 tbsp aged organic balsamic vinegar (not sure how old...just writing what the label says!)
1 tbsp parmesan cheese (optional)
instructions
in a large mixing bowl, mix together the kosher salt and cold water until salt is completely dissolved. next, trim the stems of the brussels sprouts and remove any wilted outer leaves; wash. then submerge in the salt-water mixture...i usually put a plate on top to keep them under the water...let stand for 1 hour.
preheat oven to 400 degrees and line baking pan with foil.
drain the water from the brussels sprouts and toss with olive oil, salt and pepper. spread sprouts out evenly on pan and roast for about 35-40 minutes, turning every 10-15 minutes. during the last 10-15 minutes, add the balsamic vinegar as you turn them.
the outer leaves should be darkened and some even crunchy...those are the best! sprinkle with parmesan cheese if desired!
refrigerate leftovers and eat cold the next day!! :)
http://deliciousbydre.com/brussel-sprouts/
© copyright. deliciousbydre.com