lettuce wraps.
…sounds healthy, right??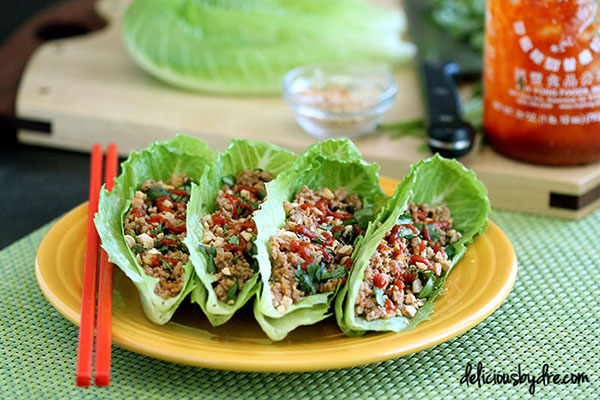 well, this recipe is.  but get this…when ordering lettuce wraps from one of the many major restaurant chains that offer them as an appetizer, you're looking at inhaling anywhere from 530-1,025 calories!! seriously!?!  it's totally deceptive for them to make this sound like a "healthy choice."
this recipe i'm about to share with you is deceptively delicious…it tastes like 1,000 calories.  and it looks like what you would order in the restaurant.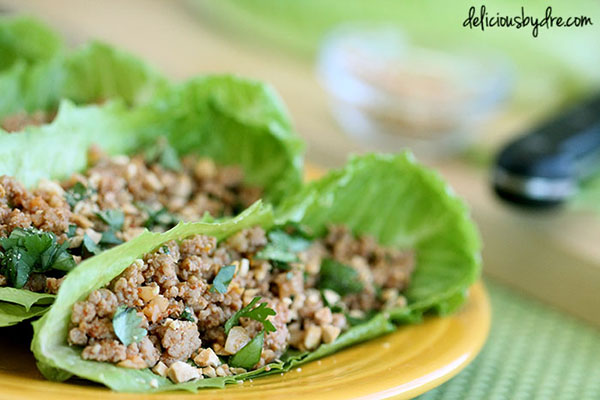 except… my clean version has less than 300 calories and only 7.6 carbs in the whole recipe.  oh yeah, and it's loaded with 58 grams of protein!
i don't even blame you for wanting to high-five me right now.  :)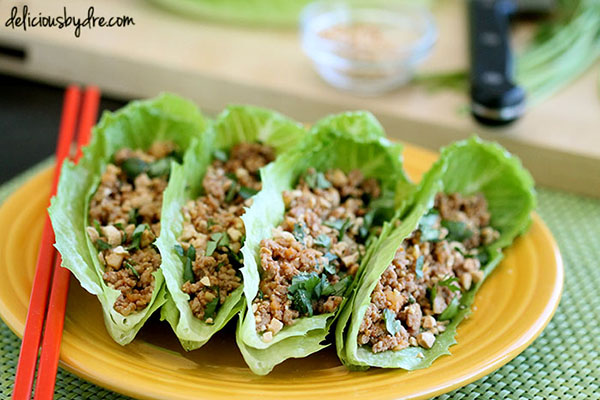 let me back up for one second.  these asian turkey lettuce wraps are the first of my ground turkey series… geez, that sounds super lame…surely i could have come up with a more exciting title! hmmmm….
anyway, it was created especially for those of you who love to use other people in their family (including their kids) as a reason/excuse to why they can't eat healthy.  (oh, you know who you are!!)  i'm going to show you as many ways as i can think of to easily make boring ground turkey into something fun, fresh, and delicious–for any member of the family!
asian turkey lettuce wraps
if you like it extra spicy, you can drizzle a little extra sriracha on top! it's delish!
ingredients
1 cup (cooked) lean ground turkey breast
1 tsp rice vinegar (no sugar, no sodium)
1 tbsp low sodium soy sauce
1 tbsp sriracha hot chili sauce
1 ounce diced water chestnuts
1 tbsp chopped green onions
1 tbsp chopped fresh cilantro
1-2 tsp chopped unsalted cashews as topping
1 heart of romaine (any lettuce will do, i've just found romaine hearts to be sturdiest for lettuce wraps)
instructions
mix warm ground turkey with all ingredients except nuts.
spoon onto romaine leaves (i like to double mine up so they don't fall apart)
sprinkle chopped nuts on top!
that's it! :)
Notes
unsalted chopped peanuts are traditionally used on lettuce wraps...i swapped them out for cashews to keep it clean for all my paleo peeps... ;)
http://deliciousbydre.com/asian-turkey-lettuce-wraps/
© copyright. deliciousbydre.com