there are only a few days left of october…and I still have more pumpkin recipes to try and cram in before the month is over!
today, i present you with pumpkin protein waffles…paleo pumpkin protein waffles!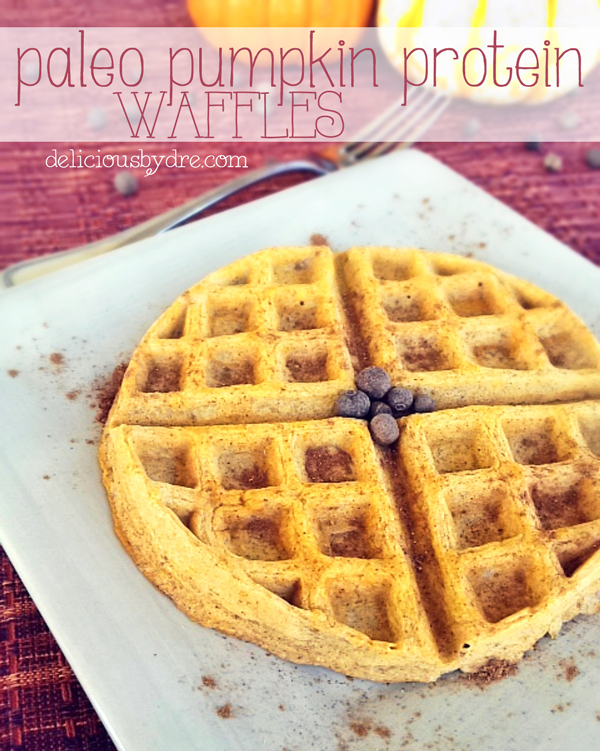 my first waffle making experience was a disastrous failure! mega-fail. (for those of you who follow me on instagram, i'm sure you got a good laugh!)  i even broke our brand new waffle maker i had bought on my very first attempt!
two months and one delicious pumpkin waffle recipe later, i am proud to show off my new waffle-making skills!
pumpkin protein waffles
1 cup egg whites
3/4 cup pumpkin
1/2 cup almond flour (make your own!)
1 scoop vanilla protein powder
2 tbsp organic milled flax
2 tbsp coconut sugar (or splenda/stevia for a sweeter taste)
1 tsp macadamia nut oil (optional)
1/8 tsp ginger
1/4 tsp nutmeg
1/2 tsp cinnamon
1/2 tsp pumpkin pie spice
1/4 tsp baking soda
1/4 tsp salt
instructions:
pre-heat waffle maker to medium low heat
stir in/dissolve the pumpkin into the egg whites
mix dry ingredients separately & add to the wet ingredients
pour in 1/2 cup measure of waffle mix evenly onto waffle iron
close shut and set timer for 2 1/2-3 minutes (time may vary based on waffle maker)
i would choose this healthy, protein-packed, 150 calorie waffle over the state fair's 1,000+ calorie belgian waffles any day!