sweet and sour, soft and chewy, good-for-you gummy candies… (good-for-you candy… that sounds like an oxymoron if i've ever heard one!)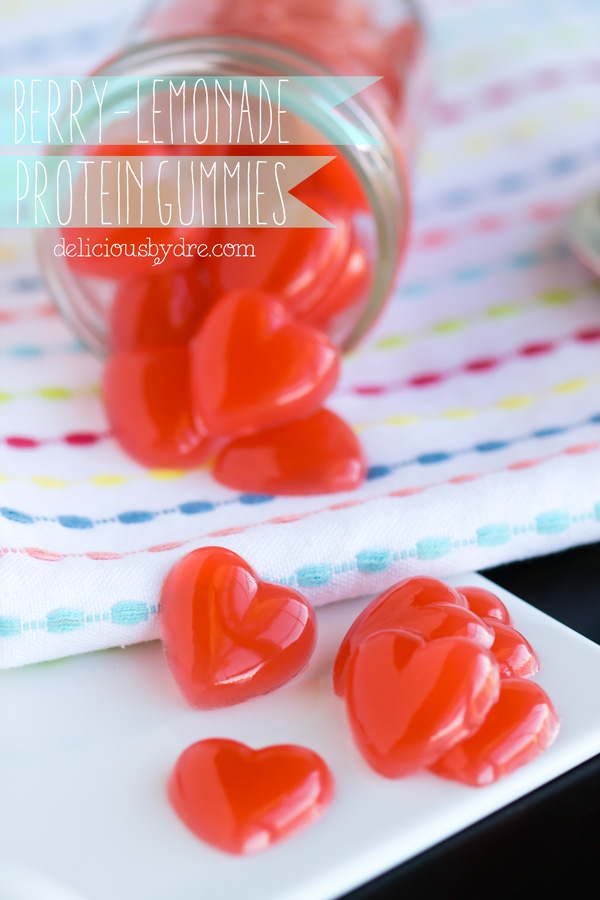 i recently developed an (unhealthy) obsession with gummy bears.  not just any gummy bears… these gummy bears!! oh.em.geee… if you've never tried them before—don't!!!! haha.  they are addictive.  rehab-worthy addictive. my husband and i may or may not have consumed an entire 5 lb bag in less than 2 weeks…
okay, it was mostly just me.  how can you resist flavors like watermelon, green apple, and mango! :)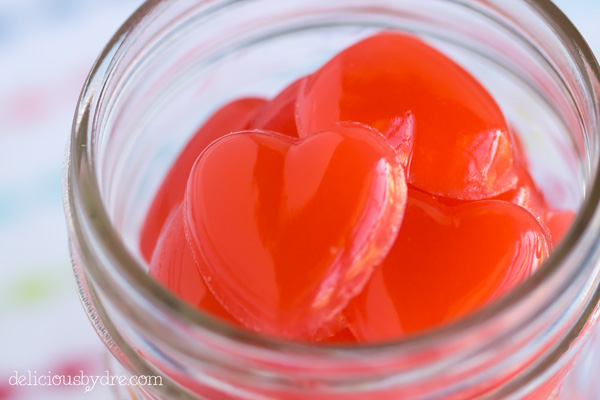 i needed a serious reality check… or a detox from playing candy crush. ;) reality came in the form of a healthy little gummy heart… just in time for valentines day! i was planning on posting this recipe earlier this week… but i've been sick. (let's be honest, i probably overdosed on gummy bears.) so what's up with these protein gummies?  why are you going to love them??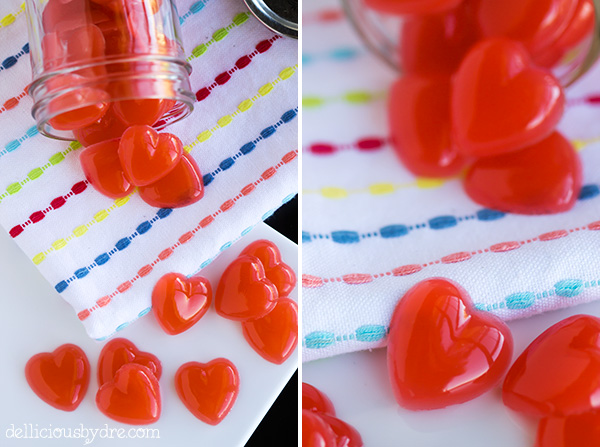 wellll…. i'll start with the protein. when you can eat candy and protein in the same bite, it's a total win-win. 5 of these little gummy hearts = 3 grams of protein!  awesomeness.
but wait, there's more!! :)  collagen.  you know, the stuff they put in every single anti-aging skin product on the market?  here's what those incredibly enticing advertisements don't tell you… the molecular structure of collagen is too big for our skin to even absorb!  so there is absolutely no benefit of collagen in a skin cream… except it will probably feel nice and soft on your skin.  however, by eating gelatin, you can help your body manufacture collagen… and it's our own natural production of collagen that helps keep your skin looking young, taut, and vibrant!  (yes, please!!)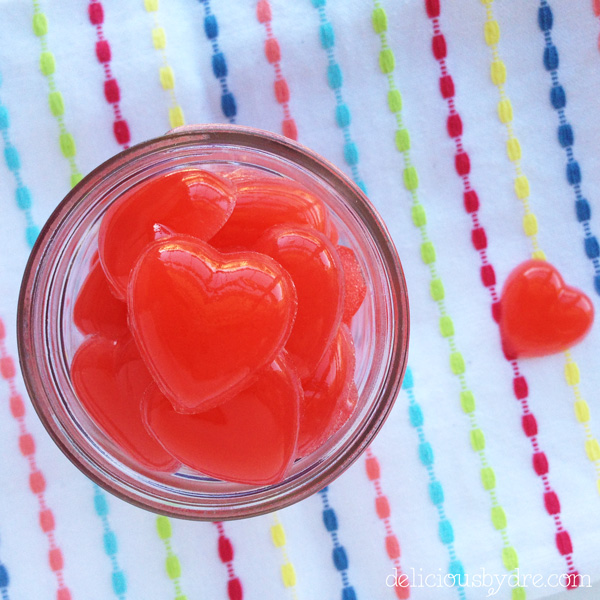 that's not all!  for all you mommies not cool with your children ingesting red #40, blue #1, and yellow #5 food dyes used in fruit snacks, here's a homemade fruit snack your kids will love! (for those of you who may be unaware of the dyes they allow use of in the united states, red 40 and blue 1 were originally manufactured from coal tar, but are now mostly made from petroleum.  yummmm.)  for even more benefits and uses for gelatin, check out this post! okay, are you ready for the best part??  (i'm sure this sounds like a 3am infomercial by now!) these gummies only take 5 minutes to make!! :) (that's right, two 5 minute recipes in a row!!)
have everything ready once you begin… you can't wait too long to pour the gelatin into the molds or it will become too thick!  (i wasn't kidding when i said 5 minutes!!)  for the gummies pictured, i used these candy molds (available at hobby lobby).  however, i also have these silicone ice cube trays i picked up at ikea for a dollar each… they work really great, creating a slightly larger gummy.  another option… a pan.  just pour the gelatin in and cut into whatever size/shape gummies you'd like once set!  (jello jigglers style!)
one more thing to note… i used berry flavored stevia drops.  i picked them up at whole foods.  if you'd like to substitute this (along with the berry flavor) you can swap it out for an additional tbsp of honey.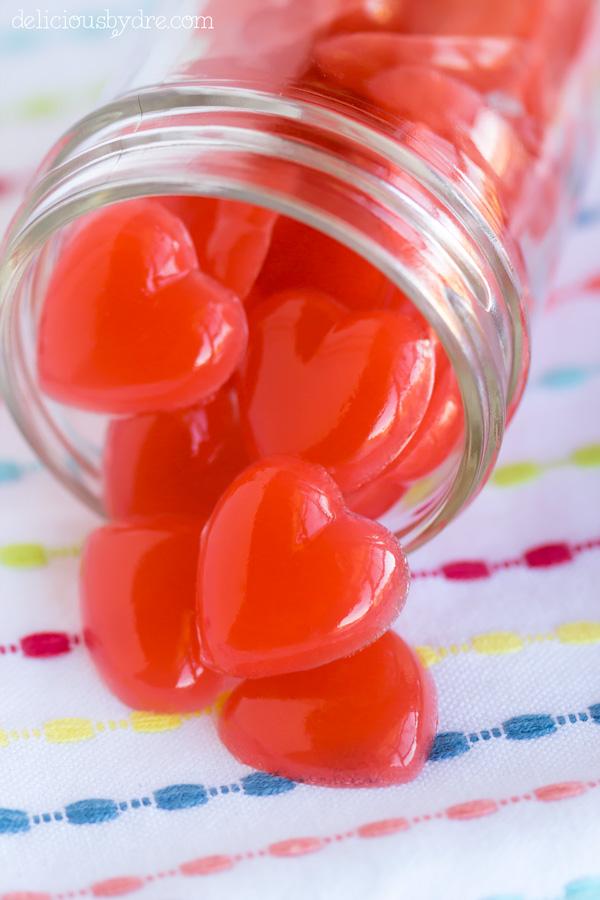 berry lemonade protein gummies
ingredients
1/3 cup + 1 tbsp lemon juice (not from concentrate)
2 tbsp honey
1 full dropper of berry stevia drops
1-2 drops lemon or orange extract (optional)
1-2 drops natural food coloring (optional)
1/4 cup grass-fed gelatin
instructions
in a small saucepan over low heat, whisk together honey, lemon juice, stevia drops, lemon extract and food coloring.
add in gelatin and continue to whisk constantly until there are no lumps.
transfer into liquid measuring cup to easily pour into your molds (or pour into a plastic baggie and snip a hole in the corner for a make-shift pastry-bag... i adapted this idea from the picture on the candy mold instructions)
place in fridge or freezer to let gelatin set for about 5 minutes before removing from molds.
Notes
store in an airtight container, will stay firm at room temperature. if there's any left after a few days (haha!), refrigerate for up to two weeks.
https://deliciousbydre.com/berry-lemonade-protein-gummies/
© copyright. deliciousbydre.com
this genius recipe was adapted from heather.  her healthy blog totally rocks.
more gelatin creations…