a warm and chocolatey personal sized brownie that only requires 3 little ingredients to satisfy all your chocolate cravings… and doesn't contain any oil or butter!

instant gratification.
you know, the moment you totally start craving the 2-minute mug brownie you saw on pinterest last week?  you have probably already accepted that it is not going to be nearly as delicious as the real deal… but you'll still nuke it until it boils over in your microwave, leaving you a huge mess to clean up as soon as the indulgence is over.  yummmm.

patience young grasshopper! :)
i wanted a healthier, less complicated version of black bean brownies… but without involving the food-processor and without the 350 extra calories and 70 carbs added by the black beans!  so i opened the fridge & used what healthy options i saw: egg whites and unsweetened vanilla almond milk…  i was fully expecting this experiment to fail miserably.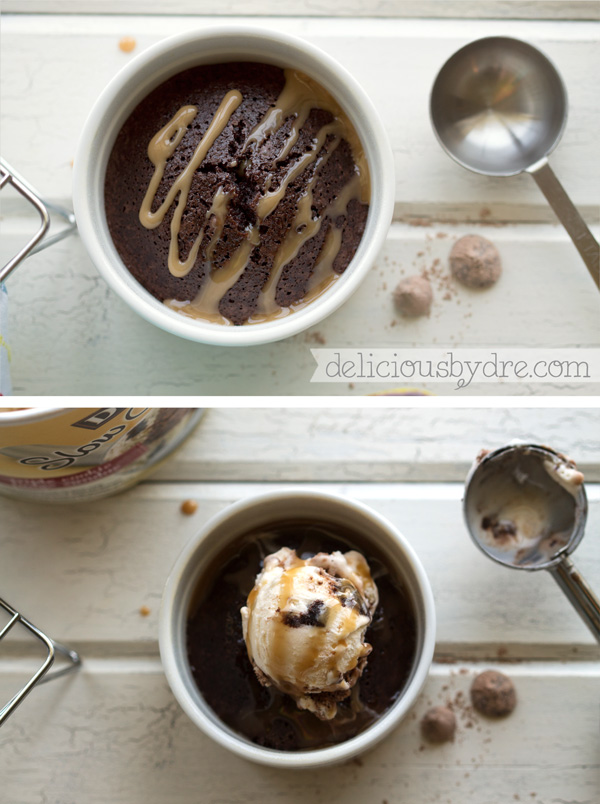 instead, i got to lavish the excitement of success on my very first trial…
words can hardly explain this feeling of victory experienced by all food-bloggers at some point or another!!
i let it cool and added a little scoop of one of my favorite low-fat ice-creams (a highly recommended pairing for this brownie: Dryers/Edys-triple cookie fudge sundae) and lightly drizzled sugar-free caramel on top.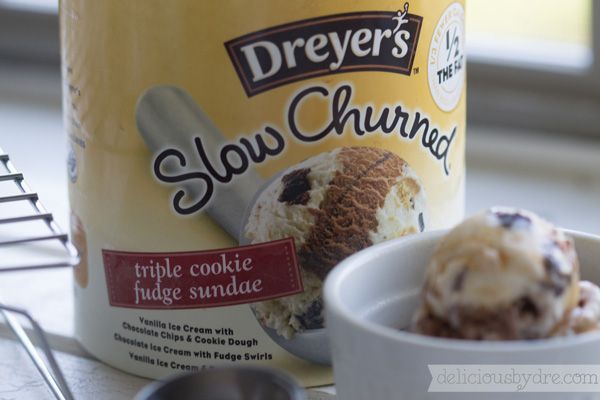 it is seriously indulgent.  i couldn't even finish the whole thing… and i have skills. ;)
so while this 'lil guy does take 35 minutes at 325, it's totally worth it!!

a personal sized, healthier brownie, with a slight crisp on the outside and chewy goodness on the inside; and doesn't contain any oil, butter, or yolks!  it's still a brownie & ice cream, but only half as bad for you! (just think of it like a 50% off sale!!) :)
i always ask my personal training clients to plan out their "cheat foods" like this ahead of time.  i promise, it makes that one dollar churro at costco much less tempting as you're waiting in line to check out!
planning ahead is key in preventing our emotions from taking over control of what we eat.
what things do you plan ahead to help keep you on track with a healthy eating program??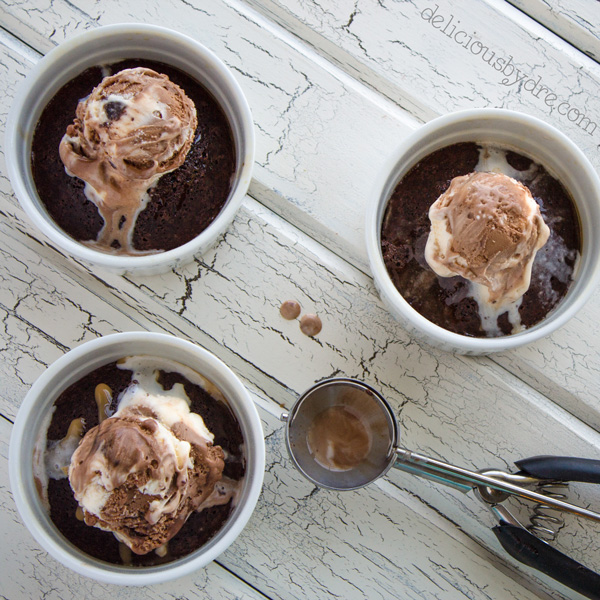 p.s. there is no pot in the brownie…it's just baked in a tiny pot.
3 ingredient chocolate chip brownie pot
requires 1 oven-safe ramekin dish... or, you could easily make these into smaller sized brownies baked in muffin tins!
ingredients
1/2 cup brownie mix {i used ghirardelli triple chocolate}
1 tbsp egg whites
1 tbsp unsweetened vanilla almond milk
instructions
preheat oven to 325 degrees.
mix together the brownie mix with the egg white and almond milk until combined.
coat ramekin with baking spray and pour in batter.
bake for 35 min (toothpick should come out almost clean)
let cool for at least 10 minutes before eating...i'm sure the fridge could help you speed that process along! :)
Notes
optional... top with your favorite low-fat ice cream! (Dryers/Edys-triple cookie fudge sundae is highly recommended...just sayin'!)
https://deliciousbydre.com/3-ingredient-brownie-pot/
© copyright. deliciousbydre.com