most of my readers know that even though the majority of my recipes are healthy, every {once in a blue moon} i'll post something really indulgent. like today… on my birthday. :)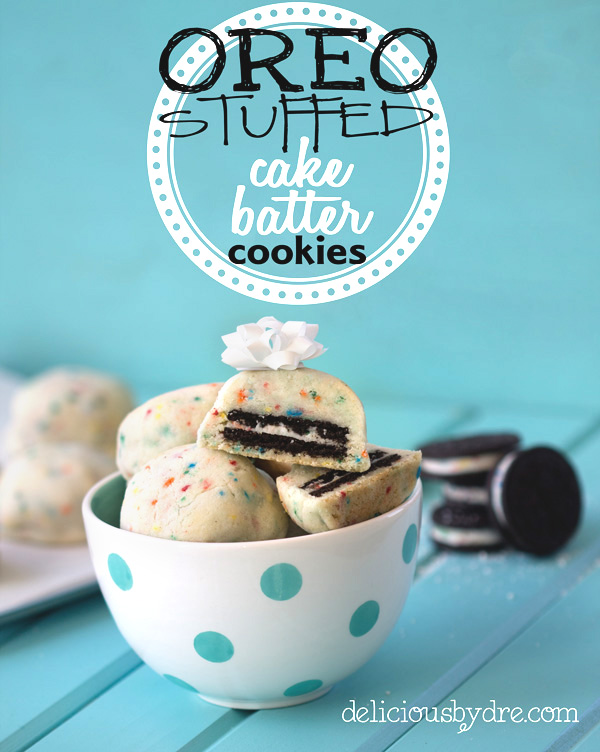 today might be the first and last birthday i ever announce on my blog… i don't quite know how i'll feel about it once i enter the next decade of my life.  it's kinda unbelievable to me when i really think about it!  i sure don't feel 29 years old…
so i thought i'd share a recipe that makes me feel like a kid… oreo-stuffed cookies! (omg!!!)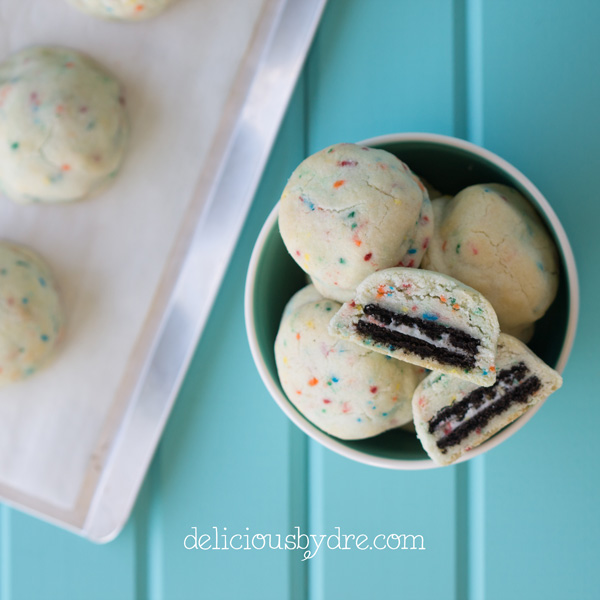 i referenced these cookies in another post earlier this year, and i now i finally have an excuse to re-make them.  happy birthday to me!  :)
if you have never heard of an oreo-stuffed cookie before… then brace yourself, my friend.  adam's cousin introduced them to us at a dinner party last year.  they were ridiculously-over the top-delicious!  my mind immediately started churning… and this recipe was born! :)
there is also another little piece of significance to this recipe… it was the very first recipe i attempted a photo shoot with!
{the birth of my love for food photography!}
(i'm totally cringing at this picture right now…but i guess we all had to start somewhere!)
2012 iphone pic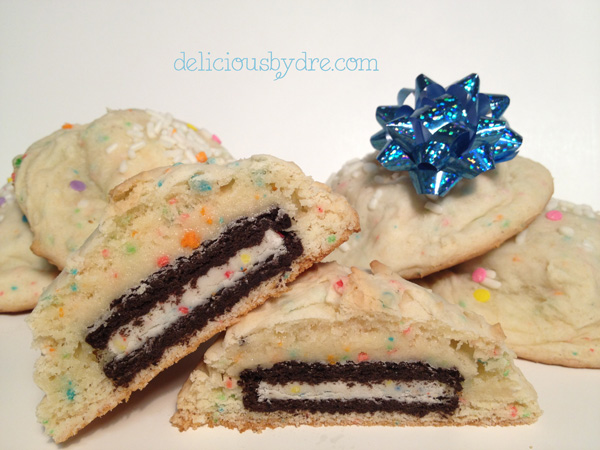 {vs}
2013 dslr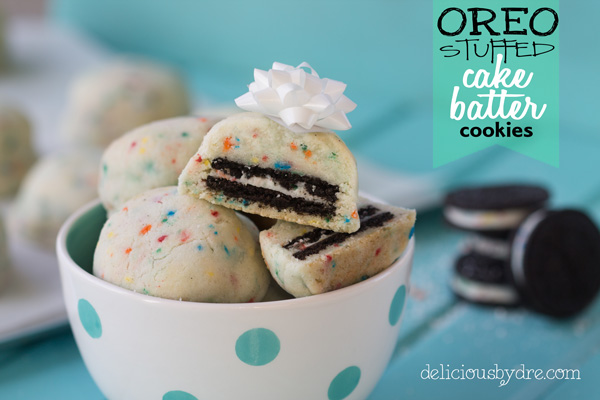 why do the double stuffed ones look so much more delicious!?! ;)
please enjoy these cookies responsibly.
oreo stuffed cake-batter cookies
ingredients
1 box of funfetti cake mix
1/3 cup melted coconut oil or macadamia nut oil (or similar)
1 egg
12 birthday cake oreo cookies
instructions
preheat oven to 350 degrees and line cookie sheet with parchment paper.
mix the cake mix with the oil and egg until combined.
using a cookie scoop, scoop 2 balls of dough and mold them evenly around the oreo cookie. (mine were a little thicker on top of the cookie.)
evenly space cookies apart on the parchment paper and bake for 10-11 minutes... cookies will look slightly under cooked when they come out, let them continue baking on the sheet for about 5-10 min before transferring to a cooling rack. they should be soft and chewy around the oreo cookie!
https://deliciousbydre.com/oreo-stuffed-cake-batter-cookies/
© copyright. deliciousbydre.com
 love all things cake batter??
{check these babies out!}