a classic deviled egg recipe, made healthier by substituting avocado for mayo and adding a spicy kick!  healthy deviled eggs that don't sacrifice taste.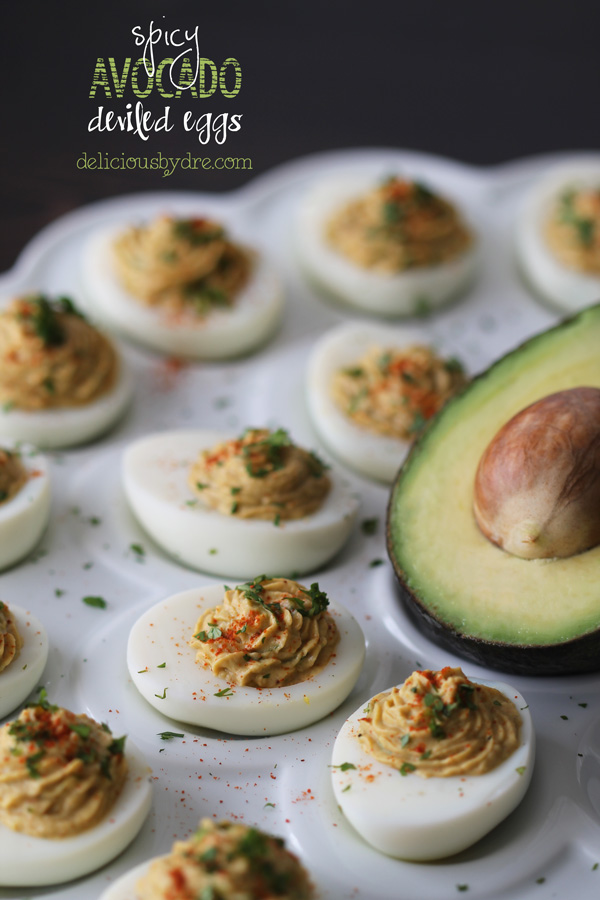 week 16… and it is starting to blow my mind thinking about the fact that i'm growing another human being inside of me right now.  that lil baby is the size of an avocado this week.  ♥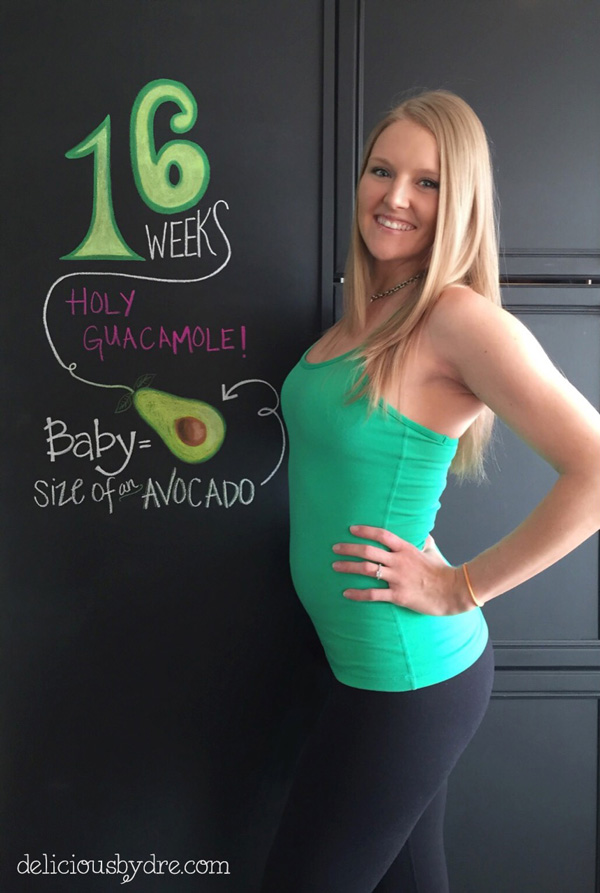 actually, i had multiple chalkboards to draw this week… i went home for my middle brother's wedding and my mom didn't want my chalkboard (or photography) skills to get rusty.  :)  so while i am a few weeks behind on my blog posts, i can now play catch-up these next 2 weeks and get you back up to speed.
naturally, being as obsessed with guacamole as i am, the first recipes that came to my head were this spicy 4 pepper guacamole and my favorite mango habanero guacamole.  that being said, it took a lot for me to think outside the guacamole on this recipe.  (btw–if you're not a spicy person, don't sweat it, just leave out the pepper part in any of these recipes.)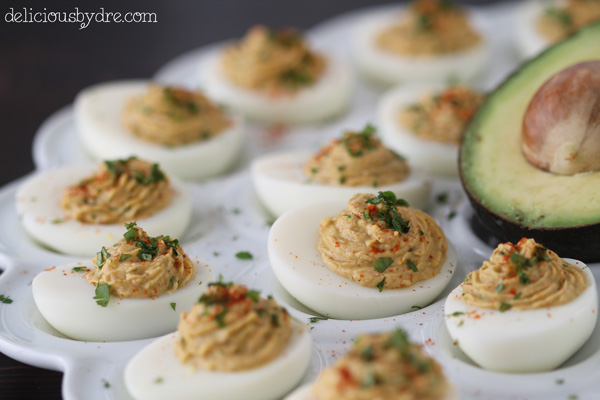 today's recipe is legit.  really, you would never think these deviled eggs were healthy.  the best part was seeing my husband (who doesn't even like deviled eggs) shovel them in his mouth!  i gave him leftovers to bring to work and he "accidentally" left them at home… mmmm hmmm.  no doubt they'll be gone by tomorrow. :)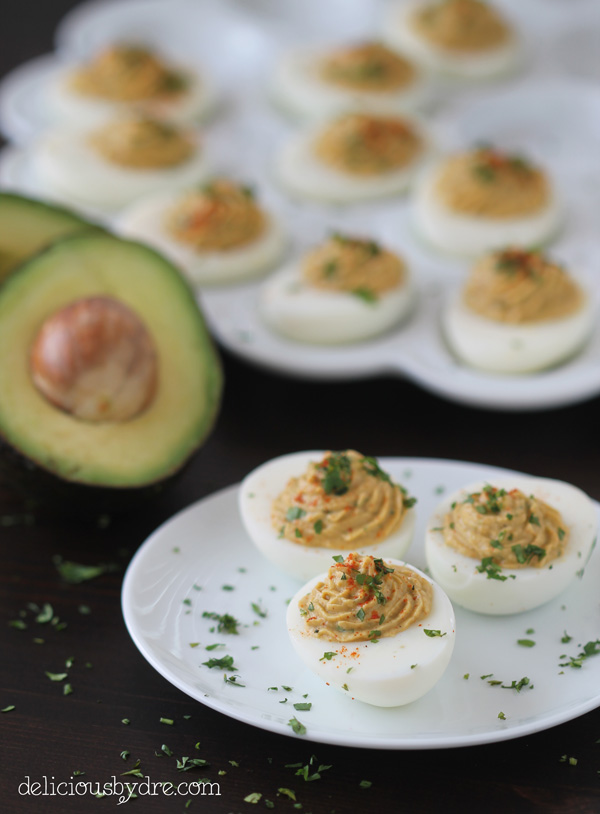 so what makes these different than regular deviled eggs??
well, first of all, your typical southern deviled egg recipe calls for almost a cup of mayo!  o-m-gross.  i'm not a mayo person to begin with so knowing this entire recipe only has 2 tiny tablespoons of olive oil mayo really makes my heart smile.  all that mayo is replaced with avocado (good fat) and greek yogurt (protein).  i can assure you, not a bit of taste is sacrificed in this swap.  heart-healthy deviled eggs… with a spicy kick (which boosts your metabolism).  yes please!
these avocado deviled eggs may look "fancy," but they were actually incredibly easy to make… literally 10 minutes tops.
okay, i guess i kind of cheated on the egg boiling part.  i bought a 24 pack of hard-boiled and peeled eggs at costco.  for $3.99, it was a deal i couldn't turn down!  i piped the filling in by using a zip lock baggie with an icing tip shoved in the corner.  if you don't have an icing tip, just cut the corner off a zip lock baggie and go from there.  either way, it will make filling your deviled eggs a breeze.  top your eggs off with a dash of cayenne pepper (or paprika for a non-spicy version) and chopped cilantro.  that's it!
week 16: spicy avocado deviled eggs
recipe can easily be reduced to half or a quarter of ingredients called for.
ingredients
12 hard boiled eggs
1 avocado
2 tbsp olive oil mayo
2 tbsp 0% plain greek yogurt
1 tbsp + 1 tsp dijon mustard
1+1/2 tsp cayenne pepper (sub paprika for no spice)
3/4 tsp cumin
4 tbsp chopped (fresh) cilantro
juice of one lime
instructions
slice hard boiled eggs in half, remove yolks and place in a bowl.
add all other ingredients and mix together until consistency is smooth.
place in sandwich sized ziplock baggie (icing tip optional) and pipe a generous amount into each egg half. you may even have filling leftover at the end.
top with cayenne pepper (or paprika) and chopped cilantro if desired.
serve chilled.
http://deliciousbydre.com/spicy-avocado-deviled-eggs/
© copyright. deliciousbydre.com