a rich, moist, gluten free carrot cake topped with cream cheese buttercream frosting… these cupcakes are to die for!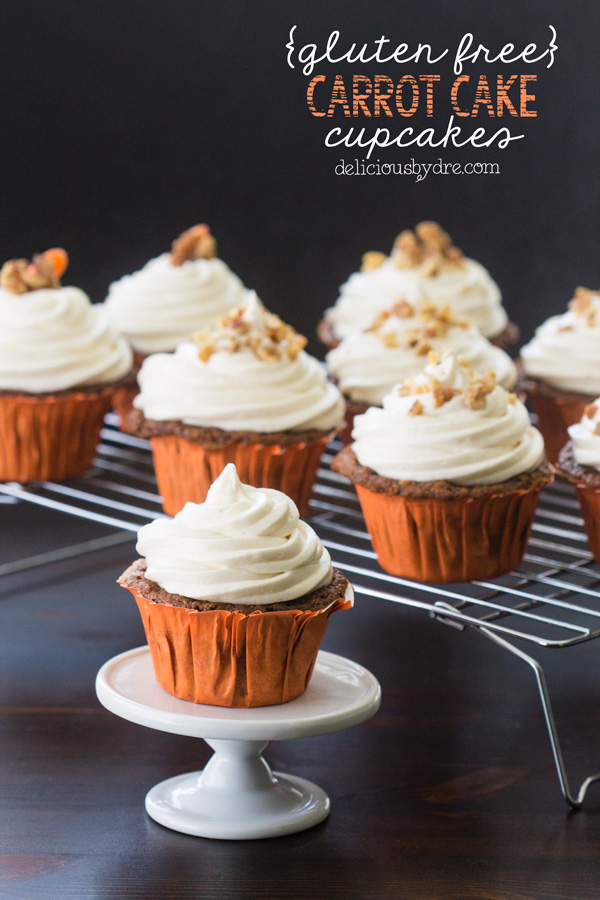 this week, baby is the size of a prune, a kumquat, or (as long as) a baby carrot.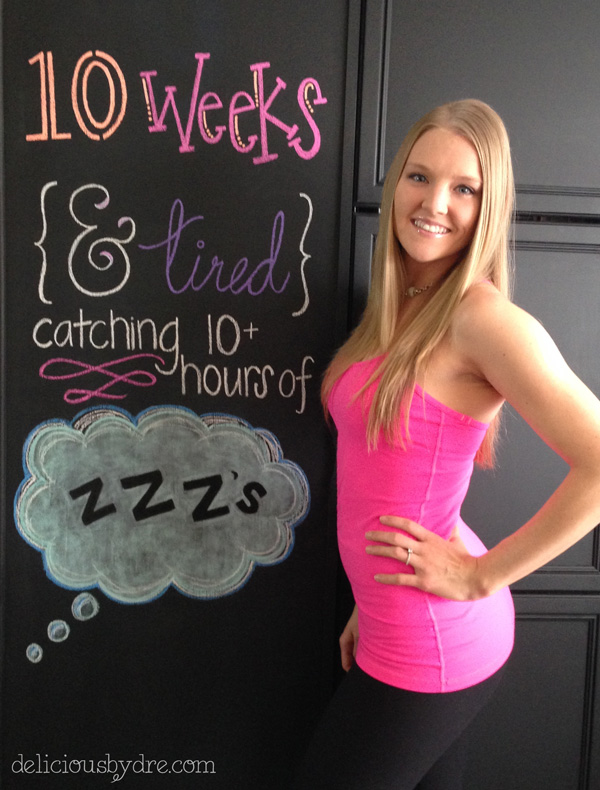 i'll be honest, week 10 almost thwarted my weekly recipe plan–i mean, who really wants a prune recipe!?  yeah, me neither.  not to mention i was too tired to even think this week!  how can something so tiny take up so much energy??
enter sister-in-love.  she came to my rescue with the idea of a carrot cake.  (yum!!)  i do realize that making a carrot cake with baby carrots is not ideal… it's painful.  i actually shredded 2 cups of baby carrots by hand for my first batch of these cupcakes… never. ever. again.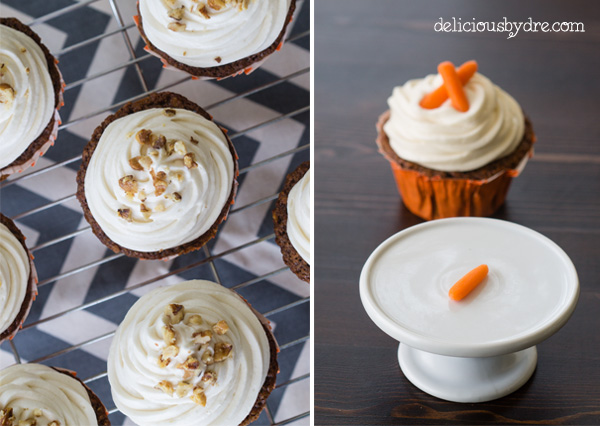 although i had never actually made a carrot cake before this, it is my mother's absolute favorite.  (to eat, that is.)  i can remember my granny making this cake since i was a little girl and let me assure you, she has the recipe perfected.  only one problem–granny's recipe is definitely not suitable for a "healthy food" blog.  so the challenge was to remake granny's carrot cake recipe for you–and still pass my carrot-cake-connoisseur mother's taste test!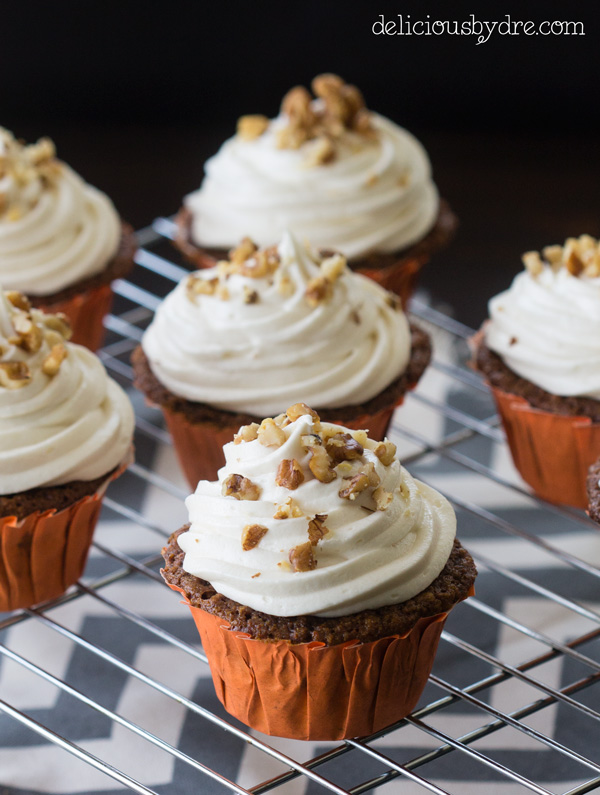 the results:
a rich and spicy carrot cake recipe that melts in your mouth.  you wanna know the best part?  (the best part–besides it being both gluten free and refined sugar free!)  it's made without any oil or butter in the cake batter!  it's hard to believe because of how moist the cake is, but this way you don't have to feel as bad about splurging a little with the rich and creamy frosting!  seriously, this recipe may even convert my granny!
the frosting is an amazing cream cheese buttercream.  i had originally created a coconut sugar buttercream especially for this recipe, however the coconut sugar gave it too much of a rich caramel taste and not enough cream cheesiness.  (don't worry, we'll save it for later!)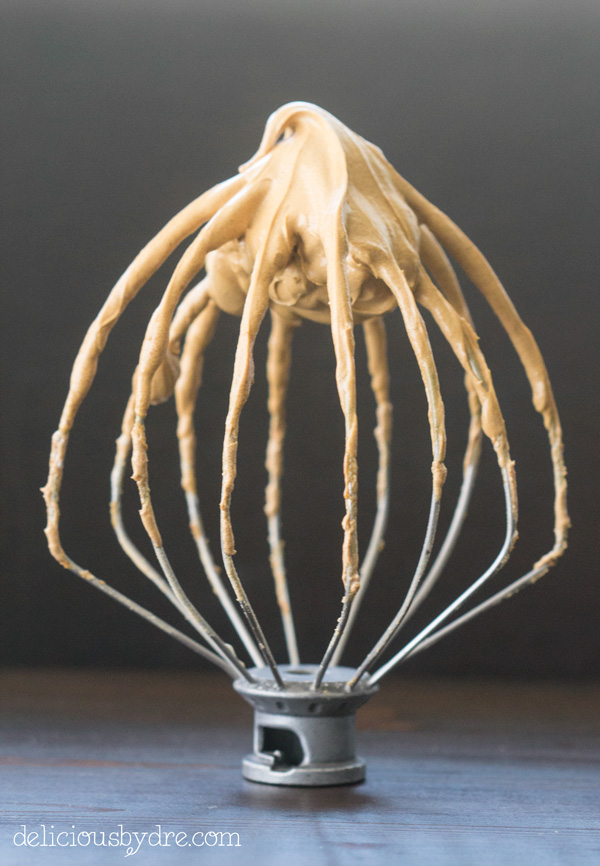 so, i went back and found a tried and true cream cheese buttercream recipe and made a few minor modifications to it.  (you don't want to mess up a good thing!)  i substituted 1/4 of the powdered sugar it called for with coconut powdered sugar to give it just the slightest hint of caramel flavor.
what's coconut powdered sugar??  just put your coconut sugar in the blender on high for about 5-10 seconds… and boom! powdered coconut sugar.  if you need your frosting to thicken up at all, try adding 1/4 cup tapioca flour.  i was able to buy 1/2 cup in the bulk food section at central market for $0.27 cents.  both of these modifications are optional.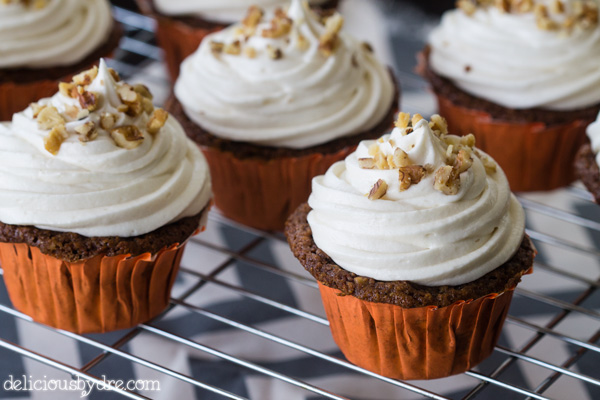 making your guilty pleasures healthier… you're welcome mom. :)
gluten free carrot cake cupcakes
ingredients
cupcakes

2 cups of organic carrots, peeled & shredded (i don't recommend using baby carrots)
1 cup almond flour
1 cup coconut sugar
1 1/4 tsp baking powder
1/2 tsp baking soda
1 tsp cinnamon
1 tsp ginger
1 tsp nutmeg
1/2 cup chopped walnuts (+1/4 cup as optional topping)
5 large eggs

cream cheese frosting

1 cup (2 sticks) organic butter, at room temperature
8 oz (full fat) cream cheese, at room temperature
1 tsp vanilla extract
3 cups confectioners sugar, sifted
1 cup powered coconut sugar, sifted (may substitute for confectioners sugar)
1/4 cup tapioca flour (as needed to thicken)
instructions
cupcakes

preheat oven to 350.
shred carrots (hello food processor!) and set aside.
combine all dry ingredients then add the shredded carrots.
in a separate bowl, beat the eggs and add to carrot batter until just mixed.
place liners in a cupcake tin and fill each one about 2/3 of the way full. bake for 18-23 minutes.

cream cheese frosting

using a hand-held electric or stand mixer fitted with paddle attachment, beat butter on medium speed until creamy. add cream cheese and vanilla and beat until fully incorporated. increase speed to high and beat mixture until light and fluffy, scraping down sides of bowl with spatula as needed.
reduce speed to low (stir) and slowly add your confectioners sugar, one cup at a time. add tapioca flour here if needed. once desired consistency is reached, increase speed to high and beat for about 1-2 minutes. frosting should be light and fluffy.
once cupcakes are cool, transfer buttercream into piping bag and frost cupcakes. top with chopped walnuts.
Notes
If not using immediately, the buttercream can be refrigerated for up to 2 to 3 days in an airtight container. Before using, bring to room temperature before beating smooth again.
http://deliciousbydre.com/gluten-free-carrot-cake-cupcakes/
© copyright. deliciousbydre.com
my niece and little helper for the day… :)