cute mini eggplant pizzas that are healthy, low carb, gluten free, and paleo… eat pizza on a diet.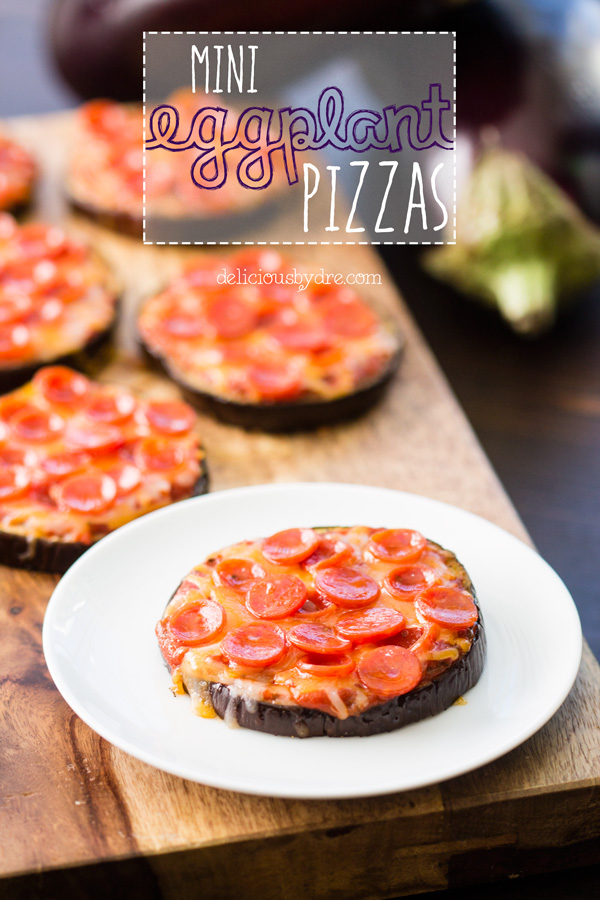 week 28 and baby judah is the size of an eggplant.  it's officially the third trimester and the home stretch of baby cookin'… i can hardly believe it!!  i'm in full nesting/organizing mode and exhausted all the time from this baby jumping rope with his umbilical cord inside of me… seriously, i can't think of anything else he could possibly be doing to create this much movement! haha!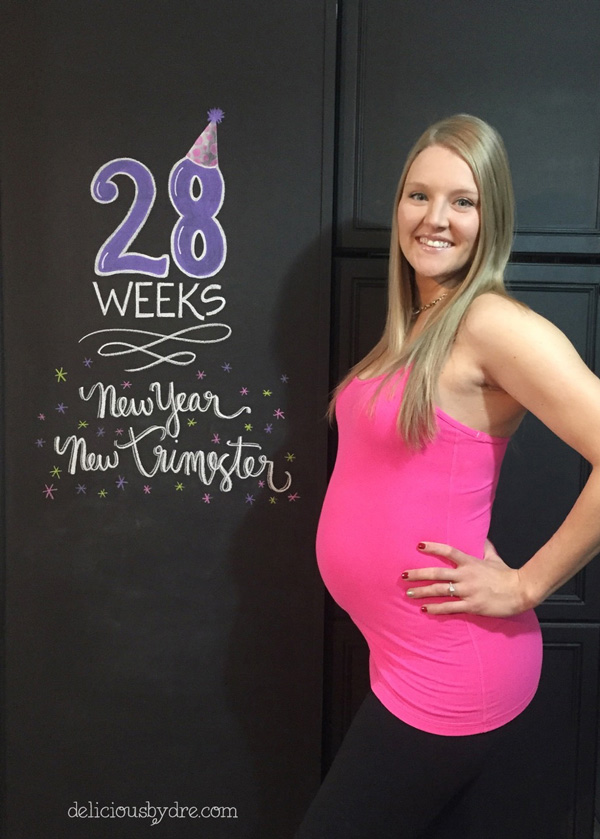 so, it's january and there are two things in full force right now: healthy new year's diets and pizza commercials during every football playoff game.  this eggplant pizza recipe is just the thing to keep you from feeling like you're missing out on all the cheesy goodness taunting you on the tv screen.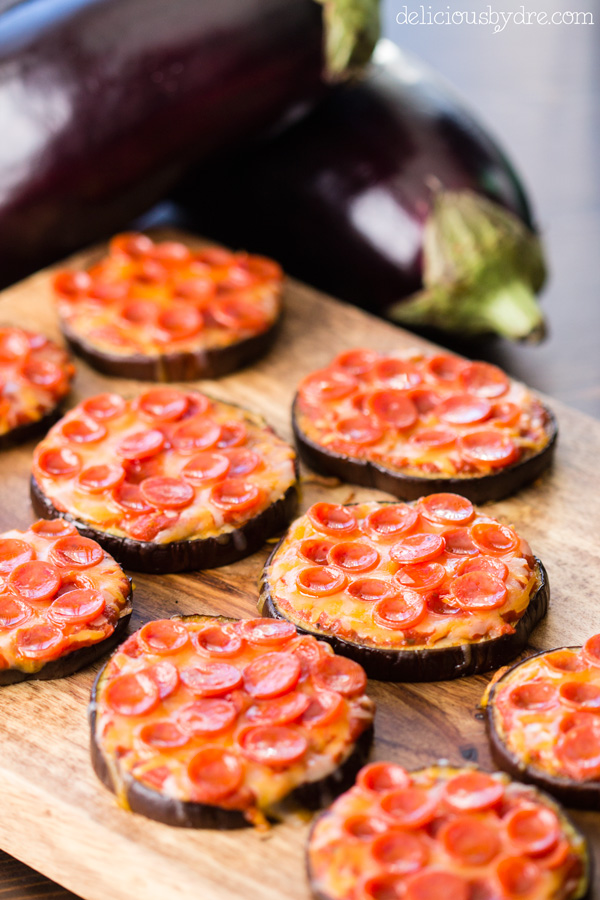 i think julia childs was the original mastermind behind this recipe.  i'm no julia childs, so this version is totally simplified and super easy to whip together!
it's also really versatile.  top with any pizza ingredients of your choice.  vegan??  use the "cheesy shreds" and load it up with veggies.  don't you just love recipes that you can be creative with?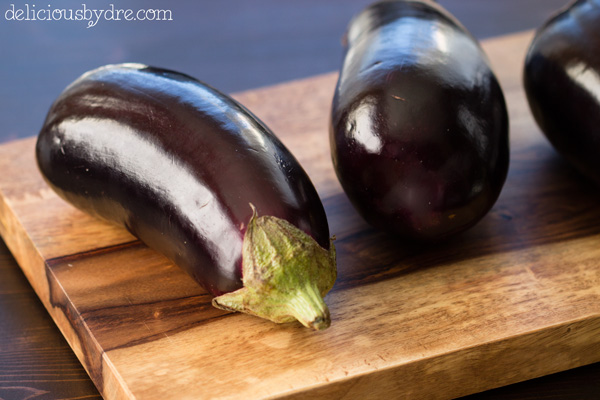 a few tips about eggplants for you before you start:
1. the width of the eggplant you choose will determine the size of your little pizzas.
2. eggplants have a good bit of moisture in them, so removing the moisture before roasting is key to not getting a soggy pizza.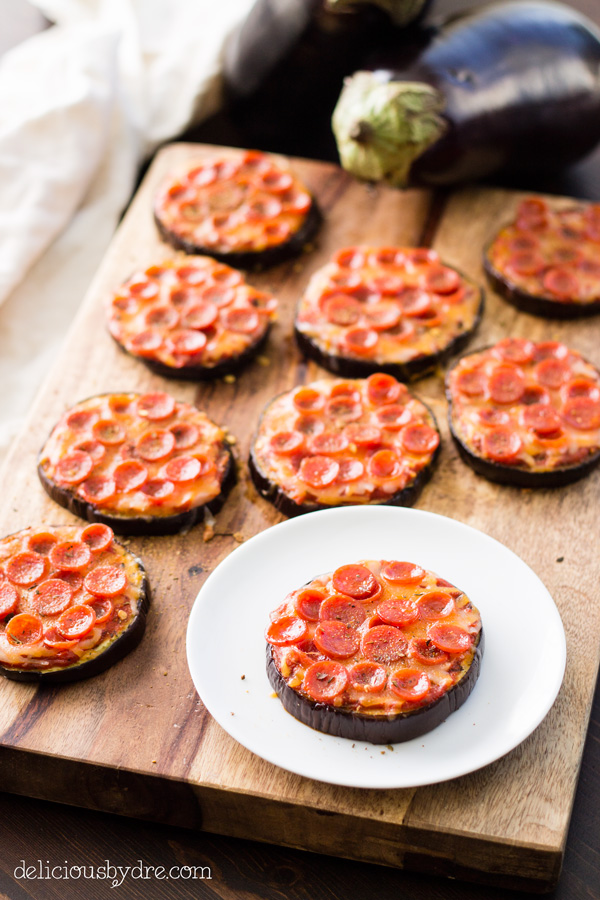 how to remove the moisture: cut your eggplant into at least 1/2 inch slices and lay them out on a paper towel.  salt both sides generously and let sit for about 20 minutes.  the salt will pull out lots of excess water.  using a paper towel, absorb any moisture pooled on top of the eggplant slices before baking.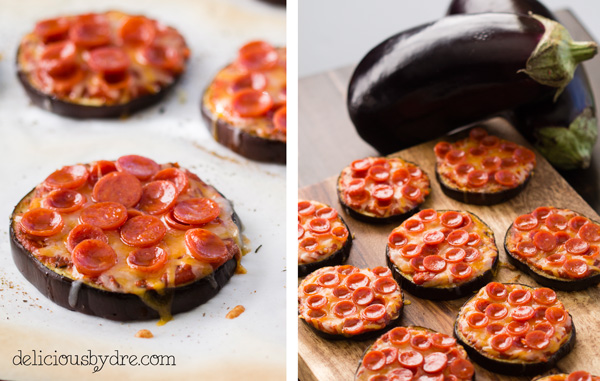 once you roast the eggplant, you're almost done.  top with your choice of ingredients and put back in the oven on broil for about 1 minute, or until cheese is nice and melty.  don't walk away from the oven… watch it like a hawk.  blackened eggplant pizza is not quite as delicious.
one more note.  use whatever cheese you have on hand.  i had a shredded mexican cheese blend in the fridge… so i used it.  i guess mozzarella is "ideal" for pizza, but convenience is also ideal in my book. :)
want another healthy pizza alternative??
you'll love this…
ingredients
1 large eggplant
2 tbsp olive oil
italian seasoning
1/2-3/4 cup organic spaghetti sauce
1/2-3/4 cup shredded cheese
pepperoni (or pizza toppings of choice)
instructions
slice eggplant into 1/2 inch slices and lay out on a paper towel. salt both sides generously and let sit for 20 min.
preheat oven to 400 degrees and line baking sheet with parchment paper. after 20 minutes, wipe up excess moisture on eggplants and place eggplant slices on baking sheet. brush with olive oil and sprinkle with italian seasoning.
roast in oven for 15-20 minutes or until eggplant begins to soften. (i did closer to 20 minutes)
remove from oven and place a spoonful of spaghetti sauce on each eggplant slice. follow with shredded cheese and pizza toppings of choice.
turn oven to broil and return baking sheet into oven for an additional 30-60 seconds... or until cheese is nice and melted.
serve hot.
http://deliciousbydre.com/mini-eggplant-pizzas/
© copyright. deliciousbydre.com