a light and refreshing vietnamese summer roll filled with mango, shrimp, and avocado.  a healthy vietnamese favorite with a sweet little twist.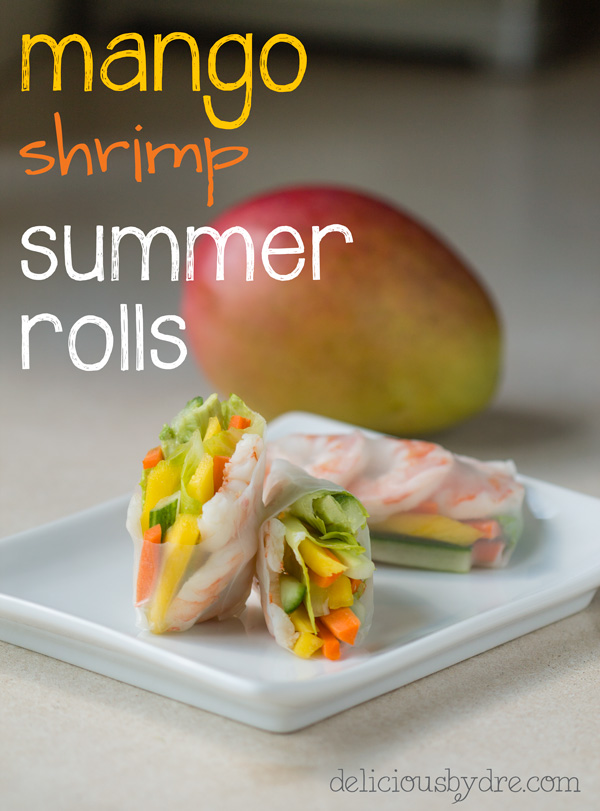 it may not be summer, but the weather here in texas right now sure could fool you!  it's almost november we are having record high temps in the 90's.  seriously??  can a pregnant girl just get comfy in some boots and leggings already!?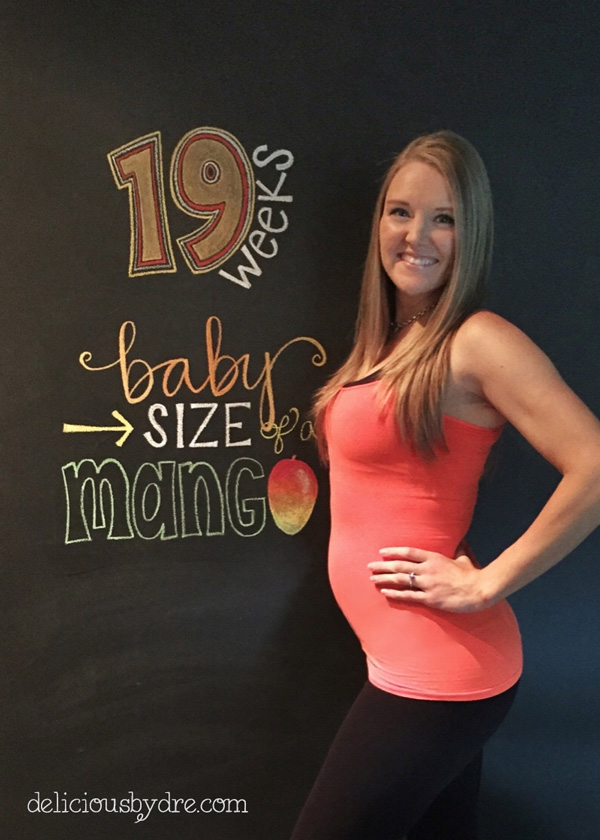 it's now 19 weeks and baby is the size of a mango.  my husband and i were house sitting this past week in a house that had a giant chalkboard wall in it… literally floor to ceiling at least 20 feet wide.  it felt like a dream.  (except for the terrible lighting when it came time to take the picture.)
at 19 weeks i'm still craving all things fruity and mango is no exception… my favorite way to eat it is frozen.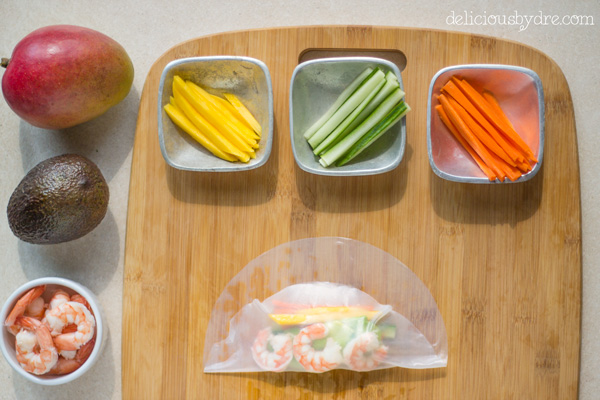 these mango-shrimp summer rolls come in close second.
i have a long history with summer rolls.  my (step)dad was born in vietnam and familiarized us with vietnamese food from a very young age.  as a child, this was one of my favorites.  except–i hated shrimp.  (whaaaatt!?!) so, i would destroy the entire roll just to pick out [the best part].  oh, how the times–and my tastebuds–have changed!
traditionally, vietnamese summer rolls come served with peanut sauce.  peanut sauce is high in both calories and sugar… so i swapped it out for a spicy soy dipping sauce that is super easy to make.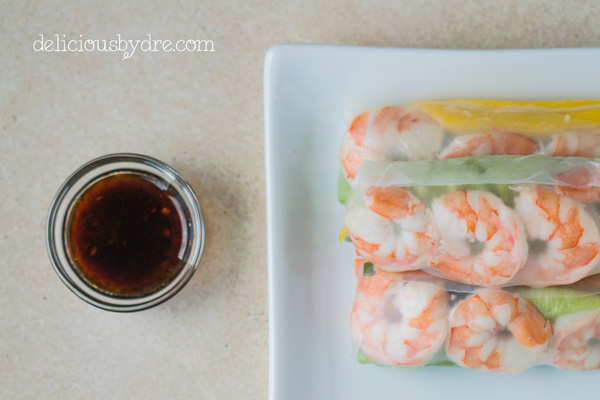 these rolls may look complicated, but they are really quite simple.  best part is that all the ingredients can (most likely) be bought at your local grocery store (no trips to the asian market necessary).  i did all my shopping at kroger.
a few tips for rolling these up…
prep all your ingredients first… have everything cut up and ready to go.  the rice paper will cooperate better.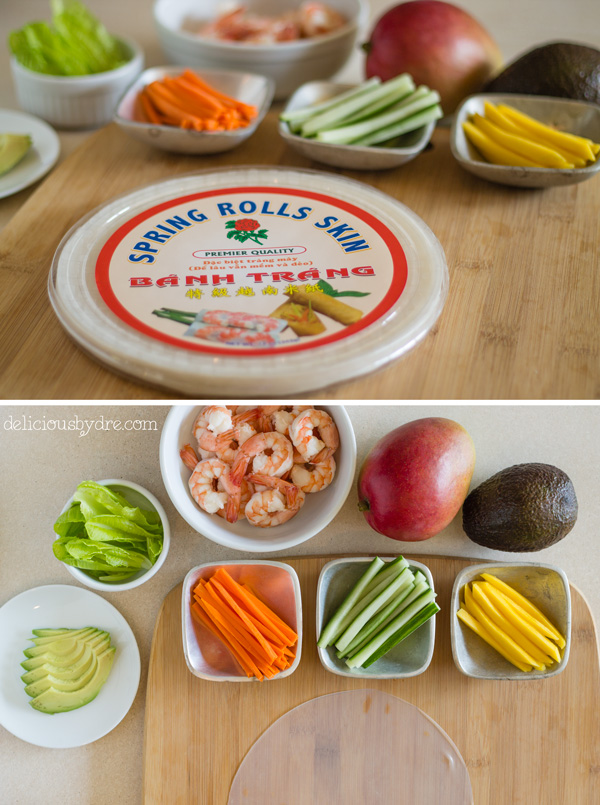 if it's your first time working with rice paper, you may need a few practice rounds, but you'll quickly get the hang of it.  i found it easiest to begin positioning the vegetable ingredients in the center of the wrap within 30 seconds of wetting your rice paper.  by this time, the paper will be ready and pliable enough to begin rolling.  one of the most important things you need to know is: don't over-stuff your rolls or the rice paper will tear!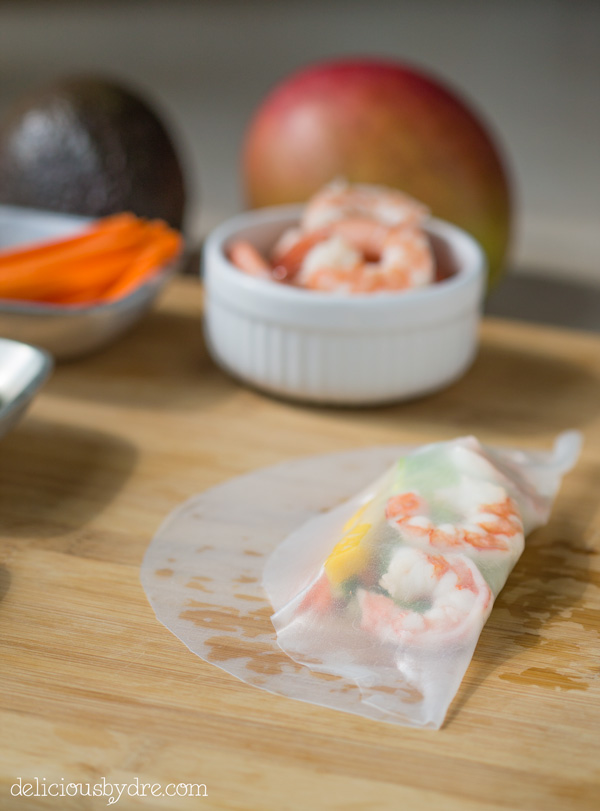 fold up the bottom flap of rice paper to cover filling, then fold in each of the sides.  next place 3-4 halved pieces of shrimp directly above the other ingredients (orange side down) and continue rolling until wrap is tight and sealed.  (i know, i did it backwards in the picture…)
the alternative sauce i made was not only easier than making peanut sauce, but it's far less calories.  a "skinny" dipping sauce, if you will. ;)
i simply mixed some chili garlic sauce (the "hard core" sriracha with the chili seeds still in it) with some low sodium soy sauce.  regular sriracha will work just fine.  leave out the spice altogether if you prefer.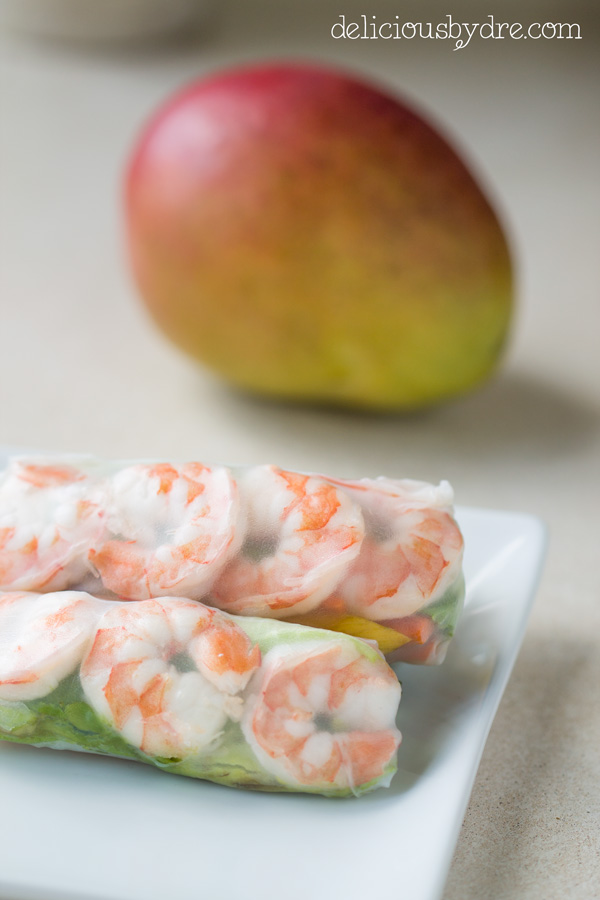 mango-shrimp summer rolls

ingredients
6-8 sheets of round rice paper
1 mango
1 small avocado
1-2 peeled carrots
1 cup romaine lettuce leaves
16 boiled shrimp
2 tbsp low sodium soy sauce
1 tsp sriracha
instructions
boil your shrimp. place thawed shrimp in boiling water for about a minute, remove and let cool.
peel, devein, and slice each shrimp in half. then cut all veggies into little 3-5 inch sticks.
working with one sheet of rice paper at a time, wet your rice paper (i quickly run each side under faucet) then lay paper on a dry surface to fill.
start with lettuce (making sure you remove all hearts/stems), then place all other veggie ingredients on top and fold up bottom flap of rice paper. fold in each side and then place 3-4 halved shrimp just above the fold, orange side down, and continue rolling until nice and tight.
repeat with remaining ingredients. space rolls so they are not touching and cover with plastic wrap prior to serving.
mix together your soy & sriracha for dipping.
Notes

best enjoyed same or next day.

http://deliciousbydre.com/mango-shrimp-summer-roll/

© copyright. deliciousbydre.com