a healthy, easy, no-bake cheesecake in a jar.  a sweetly tart whipped cheesecake filling on top of a yummy graham cracker crust… this dessert is more refreshing than a cold glass of lemonade on a hot day!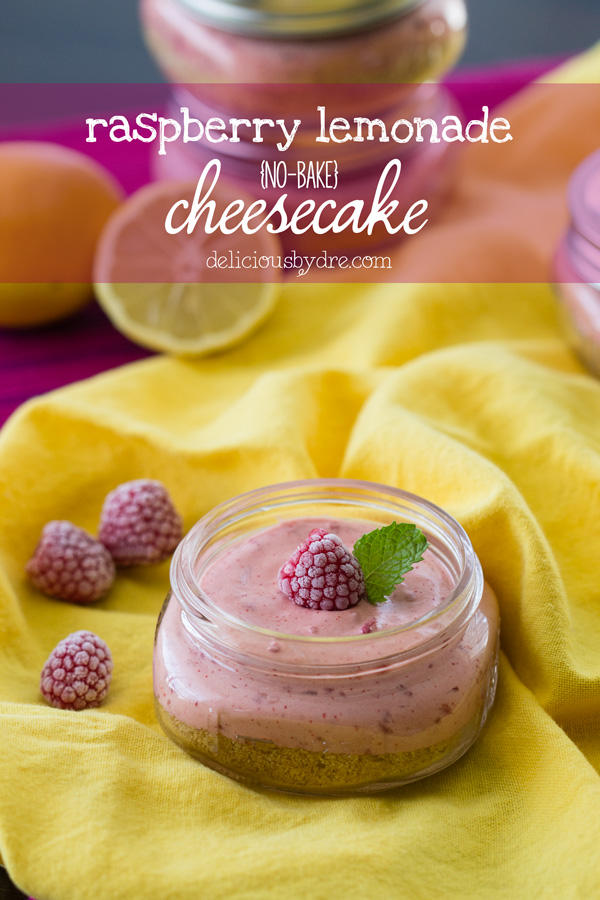 week 8… lil baby is as big as a raspberry… which means a refreshing raspberry lemonade recipe for you!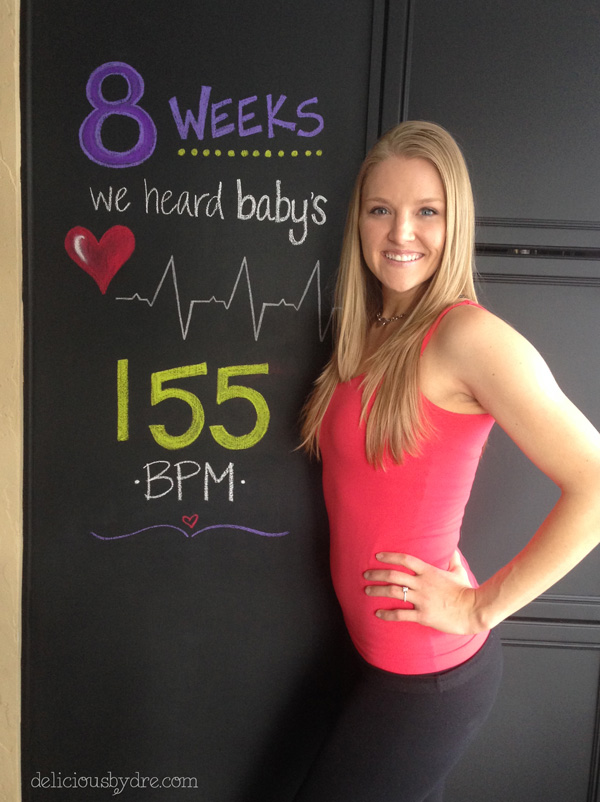 raspberries and lemons go together like… cookie dough and a spoon.  (don't judge!)
this is not just any raspberry lemonade though… this is something special.  a lightened up, raspberry-lemonade, no-bake cheesecake–in a jar!  my mouth just watered typing that.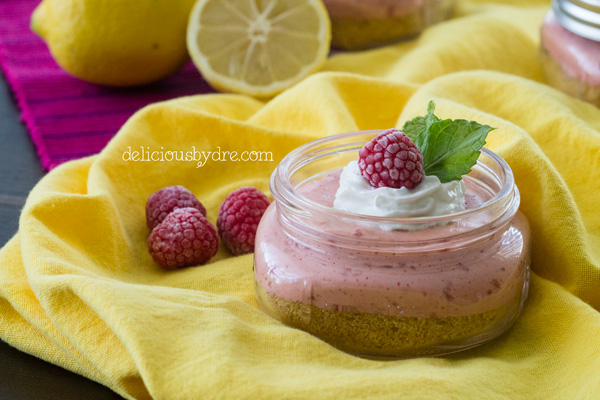 i'll be honest, as much as i love cheesecake, sometimes i will avoid making it because it can seem like such an overwhelming task!  i promise you wont feel that way about this easy little dessert.  and you don't even need your oven!
this recipe idea originated as a little raspberry-lemon tartlet.  then i thought about all the work that goes into making the little tart shells and decided to give you something much simpler… and you'll be so glad i did!
a mason jar is about the most convenient dessert vessel imaginable.  think about it… you get individual servings, they are easy to hide from little ones in the back of your fridge, and they are totally cute. :)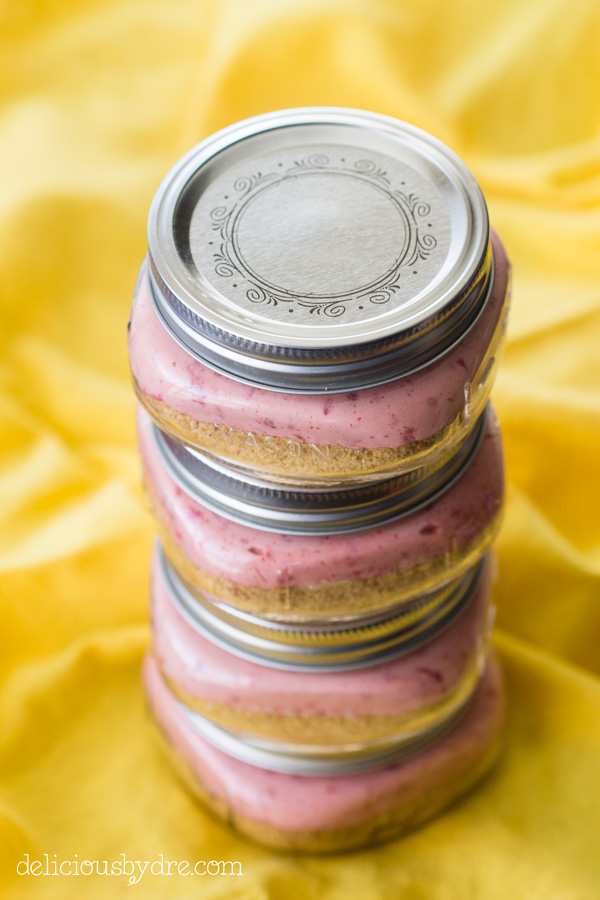 this healthy cheesecake recipe is low fat and made with coconut sugar… win-win.  i used a graham cracker crust which i pressed into the bottom of each jar with the rounded side of a tablespoon.  the crust is topped with a whipped cream cheese filling that kinda reminds me of my grandma's classic "strawberry salad" …aka, jello salad.  i'm not quite sure how a gelatin dessert ever became known as a salad.  all i know is when we went to grandma's house when i was little, it meant i could eat "dessert" before dinner, so i'm not even mad.
i spooned the filling into a quart sized plastic bag and cut out the corner and used that to "pipe" the filling into the jars.  it will help get filling in all the corners & edges and ensure you don't get any air bubbles between your filling and the crust.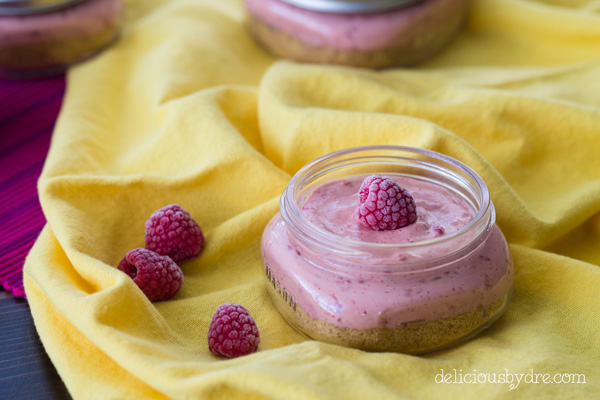 the raspberries give a nice texture to the creamy cheesecake filling.  i experimented with both fresh and frozen raspberries for you and found that the frozen, organic raspberries were much easier to thaw, mash up, and combine with the cream cheese mixture.  however it gave a much tarter sweetness than the crushed fresh raspberries.  so you may use either… i can assure you, neither will disappoint.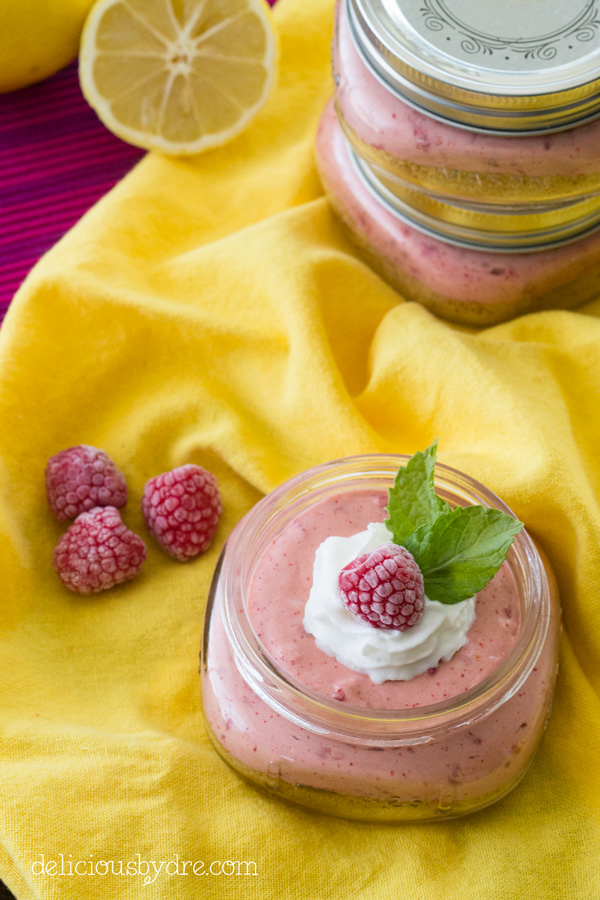 raspberry lemonade {no-bake} cheesecake
ingredients
crust

1.5 cup graham cracker crumbs
6 tbsp melted

organic

butter (melted)
2 tbsp coconut sugar

filling

1 (8 oz) package light cream cheese (neufchâtel), room temperature
2/3 cup coconut sugar
zest of 2 lemons
2 tsp fresh lemon juice
1 tsp pure vanilla extract
1 (8 oz) tub frozen fat free whipped topping (thawed)
1 cup crushed/mashed raspberries (fresh or frozen/thawed)
1 tsp sugar free raspberry jello mix
instructions
mix together your graham cracker crumbs, coconut sugar, and butter until combined, then evenly distribute (about 1/4 cup into each) into your vessel of choice (something short works best).
in a large bowl, use a stand mixer (or hand mixer) and whip together your cream cheese and coconut sugar.
once combined, mix in your lemon zest, lemon juice, vanilla, and jello. mix in the crushed raspberries.
once everything is combined, fold in the thawed whipped topping with a spatula.
place the filling in quart sized ziplock baggie, seal it, and cut off one corner. fill each of your jars/cups with the cheesecake, getting the edges where the crust meets the jar first so there are no air bubbles.
seal/cover jars and place in fridge to chill for about 30-45 minutes... unless you just can't wait to eat it! :)
http://deliciousbydre.com/raspberry-lemonade-no-bake-cheesecake/
© copyright. deliciousbydre.com