it's that time of year again.  i like to call it pumpkin madness.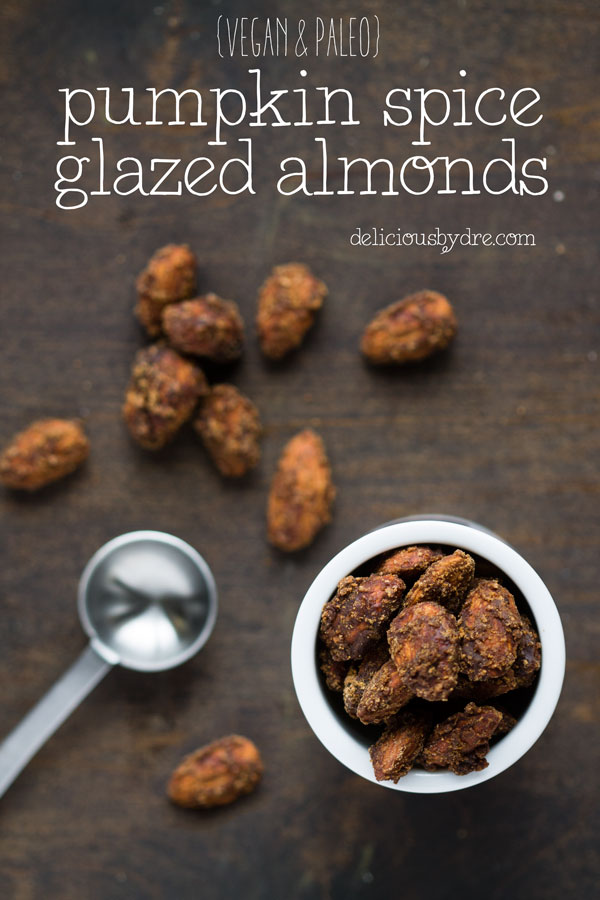 people go crazy about pumpkin.  people have entire pinterest boards dedicated to this one single ingredient (and i may or may not be one of those people…)!
actually, up until last year i couldn't have been less interested in something containing pumpkin in it.  it wasn't until i started a food blog that i succumbed to the pressure of pumpkinizing my food.  so one day last september, on a whim, i decided to experiment.  this was the result.  from the mouth of a self-proclaimed pumpkin hater…they were/are amazing!!
that's when the pumpkin madness began… i posted so many pumpkin recipes i wasn't sure i would still have ideas left for this year!!  then, divine inspiration happened.  these are literally a God-send too… a sweet & savory super low glycemic snack!  for those of you new here, i'm a little obsessed with coconut sugar.  it's magical.  the fact that it's loaded with vitamins and nutrients just sweetens the deal!  low glycemic = no insulin spike… which is actually important for much more than just people trying to control their diabetes.
okay, before i confuse you with the 2 different kinds of almonds pictured, i should tell you that half of this recipe was an accident.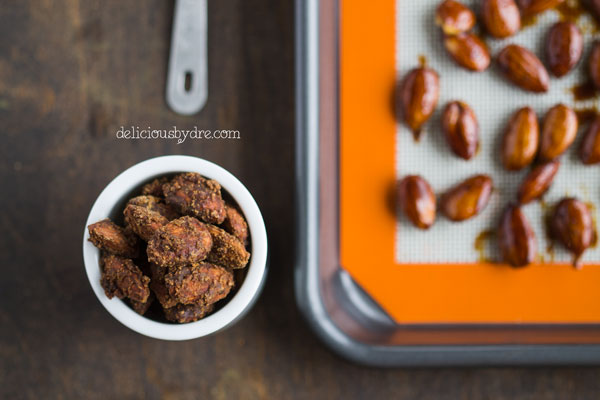 i couldn't choose which kind i loved more, so i just decided to give you both and let you dress your almonds however you'd like!
they are completely contrasted in terms of appearance/style…one is rough and coarse, the other smooth and sleek.
food that can change it's style and allows you to match the feel of what you make them for!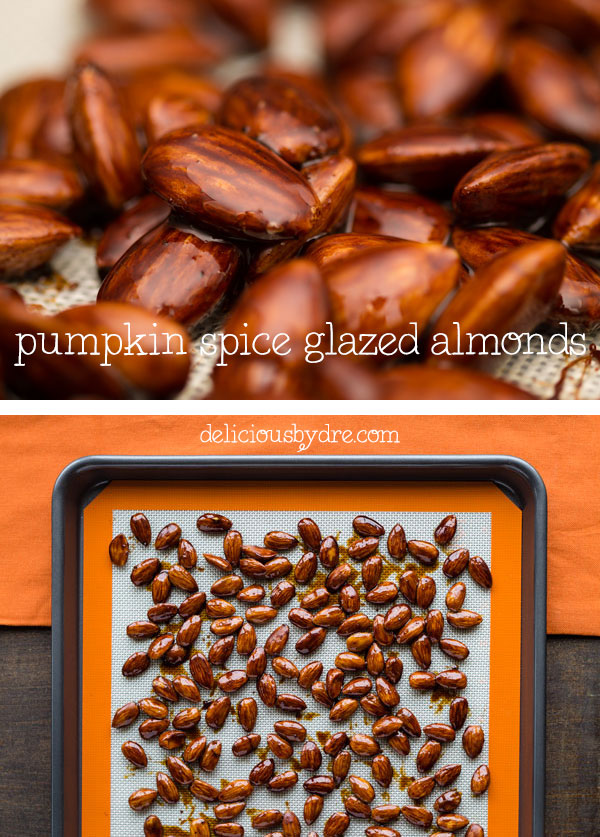 as if you couldn't be any more excited about this recipe already… it's gluten-free, paleo, & vegan. boom.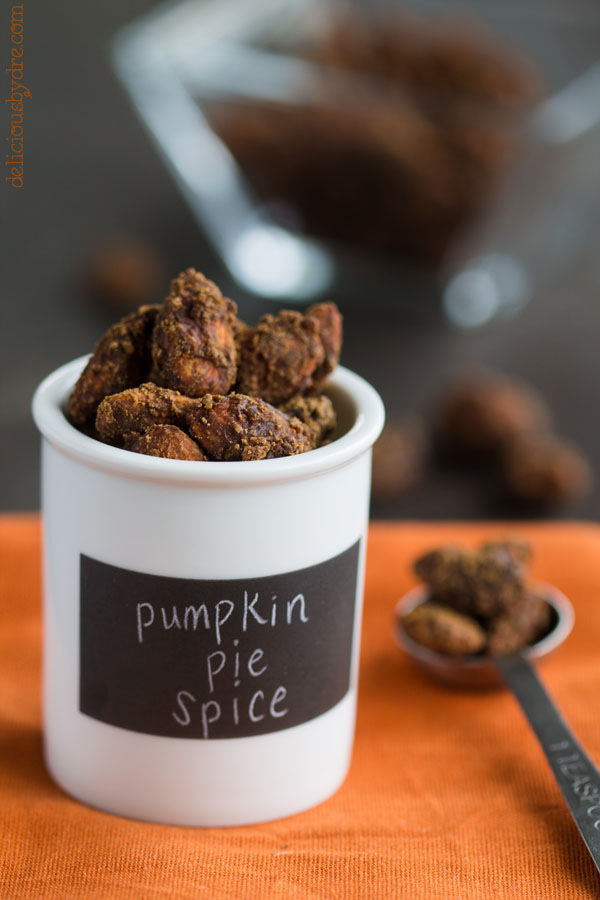 you're welcome. :)
one more thing… if you don't caramelize the sugar long enough, the almonds may not completely harden or will stay tacky.  if this happens, just toss the nuts back in the pot and move on to the second type, the more rustic looking almonds,  pictured above.  (they're my favorite anyway!)
pumpkin spice glazed almonds
okay, for the smooth almonds refer to the glazed recipe and for the textured almonds continue on to the double glazed steps.
Ingredients
Instructions
glazed

cover a jelly roll pan or cookie sheet with a silpat or parchment paper and set aside.
in a medium sauce pan, stir together the water and coconut sugar over high heat until the sugar dissolves, then bring to a boil.
add the almonds and reduce heat to medium, stirring almost constantly until the sugar begins to crystalize around the almonds...about 5-8 minutes.
the mixture should get stiffer and more difficult to stir, continue stirring until the sugar re-melts...it will be a rich, dark color with a smooth consistency.
once the sugar is completely liquid again, pour the almonds out onto the prepared sheet. use a fork to separate the nuts before the sugar dries.
store in an airtight container for up to a week...orrrrr...make double glazed almonds!

double glazed

once the glazed almonds have dried, break them up and put them back in the sauce pan over medium heat, stirring constantly. it should begin to change texture after 3-5 minutes and they will go from sticking together to falling apart with a crumbly coating on them.
pour them out on sheet again and separate if needed.
Notes
i am totally making these up for holiday gifts... put them in little canning jars and tie a ribbon around the lid! easy. :) i recommend making the second type for putting in jars and gifting!
http://deliciousbydre.com/pumpkin-spice-glazed-almonds/
© copyright. deliciousbydre.com
i feel like i get so overloaded with pumpkin during these autumn months that by christmas i am  totally stoked about having some peppermint and gingerbread in my life! :) then i usually forget about it until around september…when pumpkin madness begins!
does anyone else only cook or bake with pumpkin flavored things in the fall??