4:45 am.
this is what time my alarm clock goes off every morning.
if i'm not training a client at 6am, i use that early morning hour to do some fasted cardio before breakfast.  either way, i am hardly awake enough to prepare breakfast before my day officially begins.  this being the case, every staple breakfast item in my repertoire is easily transportable, reheat-able, or shake-able.  this recipe covers 2 of the 3.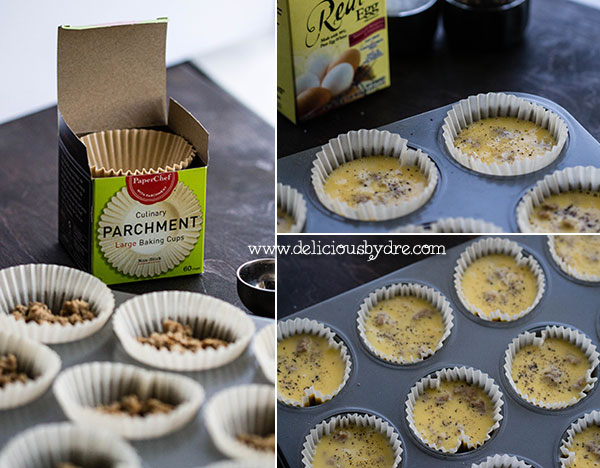 by no means am i claiming ingenuity on this recipe.  we've all seen it in some form or another on pinterest… however, i have experimented with a few similar pinterest recipes before… and in doing so, exerted far more energy than necessary to prepare a simple breakfast muffin.  plus, my recipe is nitrate-free!  (no processed lunch meat muffin liners).  okay, all that's great… but what trumps pretty much anything for me is easy cleanup!  (i'm also a fan of no cleanup…my husband tells me it doesn't exist!)
i can confidently say i've come pretty close to eliminating cleanup all together with these little parchment paper baking cups i found at the grocery store the other day (in the parchment paper/aluminum foil aisle).  scraping egg out of my muffin tin one time made me hesitant to even attempt this recipe ever again… until now.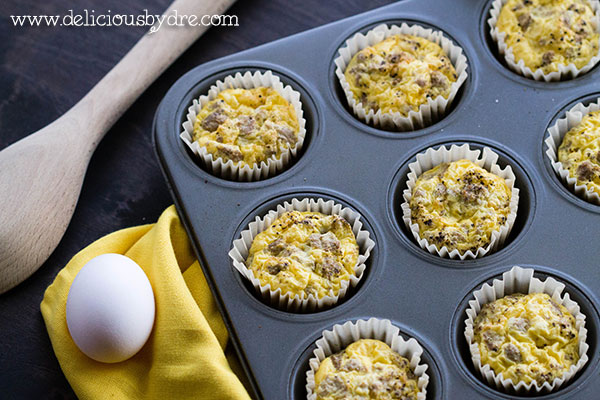 dreamy, non-stick, perfectly portioned muffin liners…
for carb-free muffins!!
(that totally sounds like an oxymoron.)
i like using the word 'muffin' though.  it's a fun trick i play on my brain! :)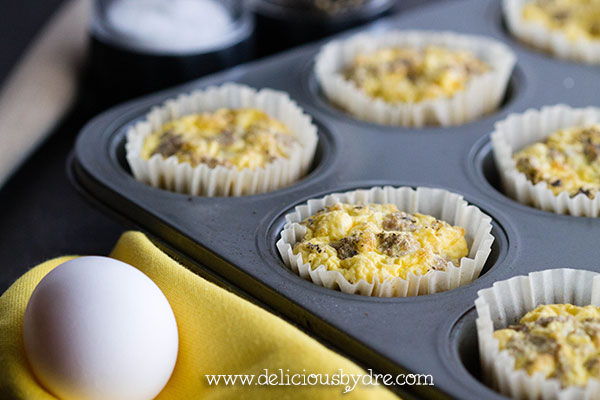 that's not even the best head-game that comes with this recipe… the best part is that i get to eat 3 of them!!
at less than 45 calories each, 3 of these lil muffins gives me 3 grams of fat, zero carbs, and 24 grams of protein!!
2 ingredients + 18 minutes = an anti–muffin-top breakfast all week long!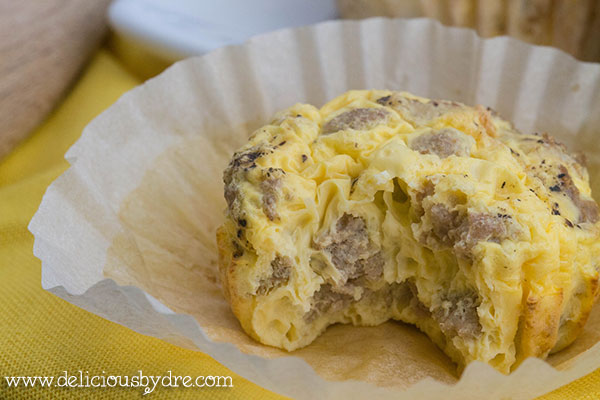 egg beaters = liquid egg whites...don't let the yellow color fool you. it's basically the same thing. :)
ingredients
18 oz liquid egg whites or egg beaters
6 oz cooked ground turkey
salt & pepper...to taste
instructions
preheat oven to 400 degrees.
line muffin tin with parchment paper baking cups.
spoon in 1/2 oz (about 2 tbsps) cooked ground turkey into the bottom of each baking cup.
pour 3 tbsp egg beaters over ground turkey in each cup.
just a dash of fresh-cracked salt & pepper over each cup.
bake for 18 minutes.
store in airtight container in fridge.
http://deliciousbydre.com/egg-turkey-muffins/
© copyright. deliciousbydre.com