soft & chewy gingerbread cookie topped with a creamy candy cane kiss!  quick & easy "semi-homemade" holiday cookies!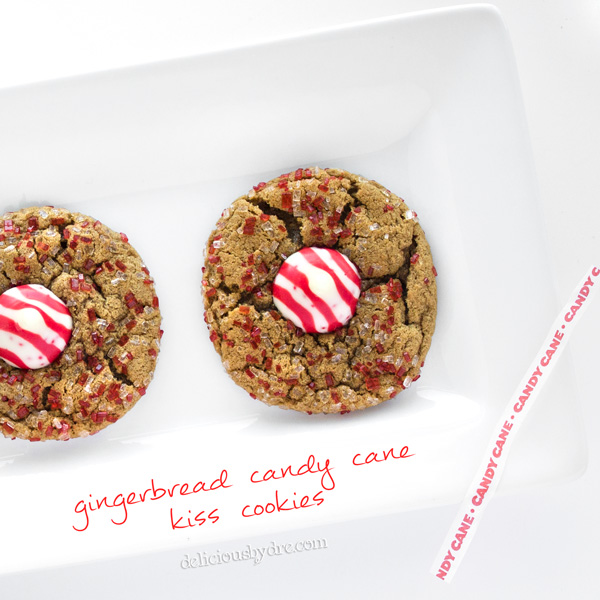 my husband called these little cookies "sandra lee" style… semi-homemade.
which, is the exact reason why you are going to love today's new "recipe"… if i can even call it that!
i guess i should start by saying that this is not a sponsored post!  promise.  i just love immaculate baking co. and think the ingredients they use in their products totally rock.  that being said, immaculate's ginger spice cookie dough (i found it at target) is one of the two ingredients you'll need to make these super easy christmas cookies!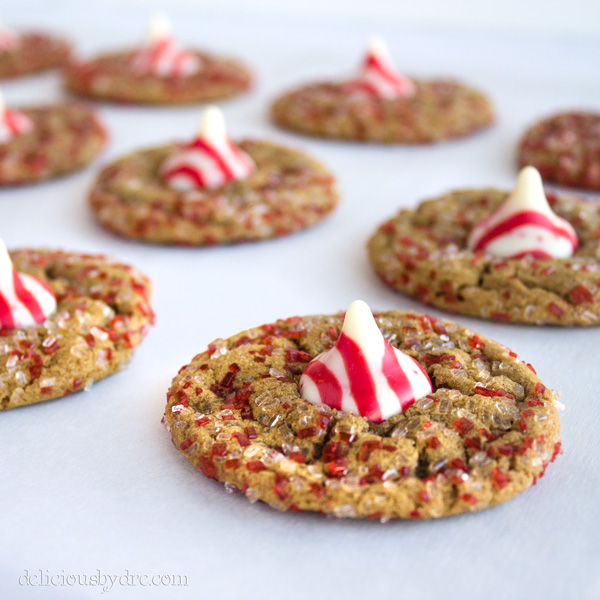 the other ingredient is a candy cane kiss.  if you haven't tried one of these seasonal peppermint kisses yet, then you are seriously missing out, my friend!  you'll only need 24 kisses for the cookies… so that should leave you plenty leftover to "sample."
 bake cookies according to instructions less one minute (9 minutes), then let set for about 3-4 minutes before pressing an unwrapped kiss into the center of each.  i like to place my cookie sheet in refrigerator for about 5 minutes immediately after to stop the kisses from absorbing any additional heat.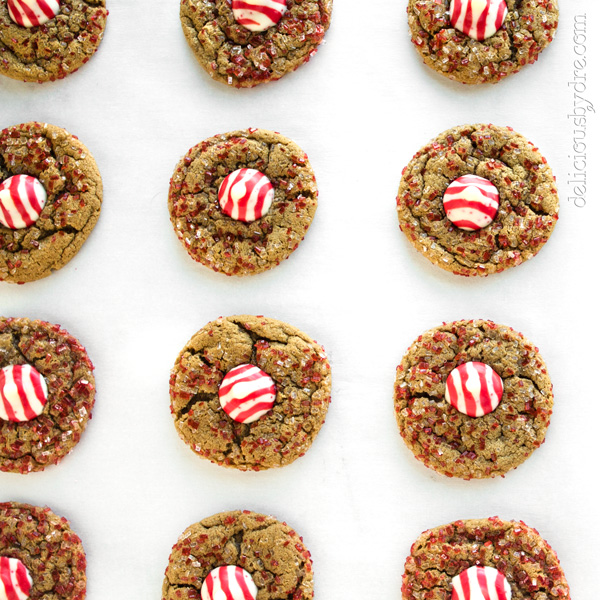 the creaminess of the peppermint white chocolate mixes so perfectly with the spice of the gingerbread!  and the gingerbread cookie is chewy… which is kind of a big deal in my book!  this is not your typical, hard-as-a-hockey-puck, gingersnap!  it practically melts in your mouth!
if, by chance, you don't fancy gingerbread, you can easily swap it out for a different flavor cookie dough!
15 min, start to finish… cutie holiday cookies that are easy enough for anyone to make.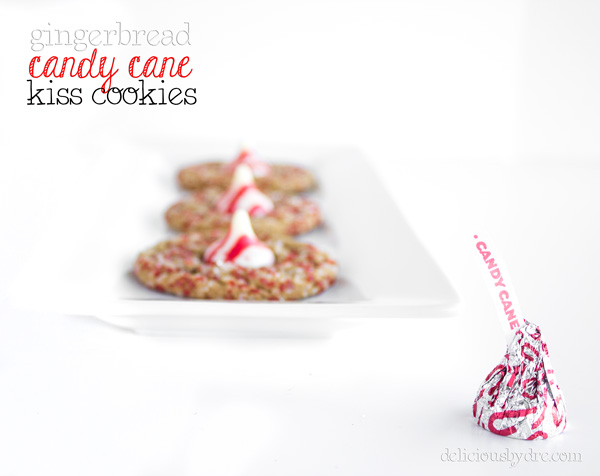 seriously.  anyone. :)
gingerbread peppermint kiss cookies
Ingredients
1 package immaculate baking gingerbread cookies (or your flavor of choice)
24 candy cane kisses

(optional)

red (coarse) sugar crystals
Instructions
preheat oven to 350.
dip each cookie dough ball into the sugar crystals and space them about 2 inches apart on an ungreased cookie sheet.

(here's a little trick...remold the cookie dough balls to be taller than they are wide... it'll make your cookies even thicker than the ones pictured!)

bake for 9 minutes. (cookies should look slightly underdone.)
remove cookie sheet from oven and place on top of a wire cooling rack to rest for about 3-4 minutes before placing kiss in the center of each cookie (otherwise your kisses will melt!)
place cookie sheet in the refrigerator for about 5 min to stop the kisses from absorbing any heat.
...and you're done!
Notes
the gingerbread cookies come with a little packet of crystalized sugar, i just added some red crystals in with the white!
http://deliciousbydre.com/gingerbread-candy-cane-kiss-cookies/
© copyright. deliciousbydre.com
and this picture… because it made me laugh too hard not to share with you.  :)
more gingerbread  & peppermint delight…