restaurant-style salsa, made at home in 60 seconds flat.  more time to fiesta!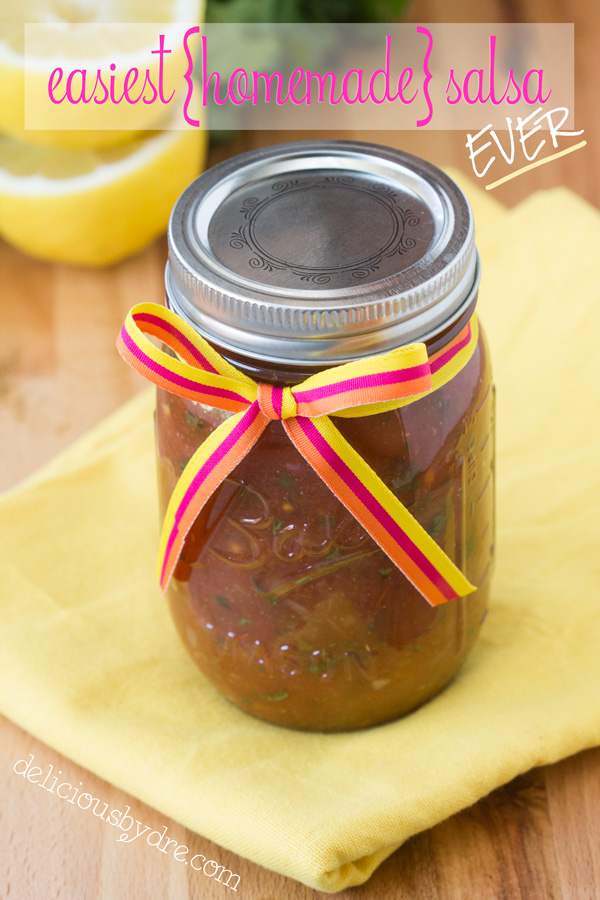 happy cinco de mayo.
does anywhere besides texas make a big deal of this "holiday"?  i don't know about you, but i'm down with any excuse to eat chips & salsa and drink a margarita!  (speaking of, check out this strawberry kiwi margarita i've been wanting to try from sally's baking addiction.)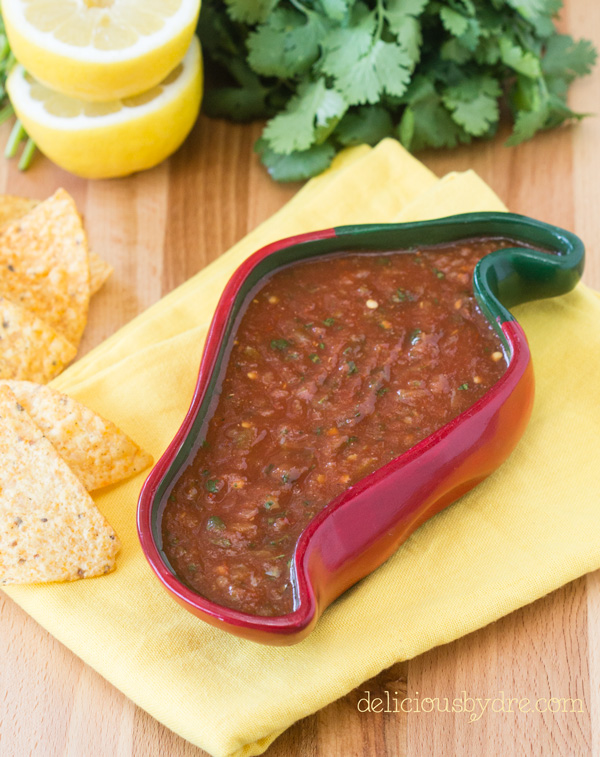 this recipe will take you from siesta to fiesta in no time at all.  seriously, like 60 seconds or less.  i think that makes this quickest recipe on my blog… with this other great dip coming in close second!  (plus, i owed you something quick after posting a few legit worth-the-time-and-effort recipes.)

this particular salsa recipe was stolen from my mother… but any delicious recipe that comes from home usually originates with my (step)dad. :)
i could hardly believe it was homemade the first time i tried it.  okay, i take that back.  my sister-in-law is from mexico and she can make an ahhh-mazing homemade salsa.  but my mom?? …well, that's another story.
i guess semi-homemade would be a more accurate description of this recipe.  either way, it's speedy gonzalez fast and your guests will be asking for the recipe once they find out you made it yourself!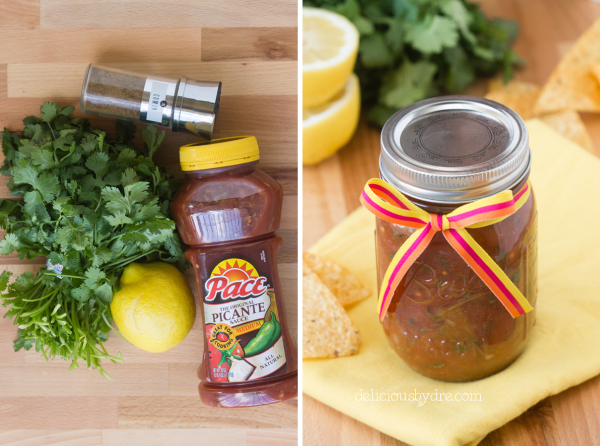 you will only need 4 ingredients to make this recipe and about 4 dollars total!  (greatness)  you'll start with a large jar of cheap salsa or picante sauce… i got a 38 ounce container of "pace" at costco (shocking, i know).  add the juice of one lemon (or lime), 1.5 tsp of ground cumin, and a half bunch of cilantro.  i literally ripped off the leafy tops of half the bunch while it was still all bundled together… remember, speed is key here people!  you can also add in a dash of cayenne or a jalapeño to spice your salsa up a bit!
okay, this part is important… once you get all these ingredients into the blender, you only need to pulse it a few times.  you'll be able to tell when it's the right consistency (think of restaurant style salsa).  if you blend it like a smoothie, you will end up with mushy salsa soup.
side note… cilantro is amazing for detoxing!  specifically, removing traces of heavy metal from the body.  the essential oils in cilantro are considered to have antifungal, antibacterial, and anti-inflammatory properties as well.
if there was a super easy way to make your salsa healthier for you, this is totally it! :)
easiest "homemade" salsa ever
Ingredients
1 large jar of (cheap) picante sauce
1/2 bunch of fresh cilantro leaves
juice of 1 lemon (or lime)
1.5 tsp cumin
Instructions
put all ingredients into a blender and pulse 4-5 times.

do not over-blend!!

done. serve and enjoy!
Notes
refrigerate leftovers in original salsa container or a tightly sealed mason jar.
http://deliciousbydre.com/easiest-homemade-salsa-ever/
© copyright. deliciousbydre.com
 more dips by dre…